HORIZONTAL @ MMCA, KOREA & HAYWARD GALLERY, UK
HORIZONTAL – Hayward Gallery, Southbank Centre, London, UK,
Mar 4 - Oct 31, 2020 –OPEN
"Among the Trees celebrates key works of art that reimagine how we think about trees and forests. Spanning the past 50 years, the exhibition brings together major works by 38 leading international artists from five different continents. As well as illuminating the beauty and visually arresting character of trees, Among the Trees invites us to consider trees as both symbols and living organisms. Timed to coincide with the 50th anniversary of Earth Day, the exhibition explores how trees have shaped human civilization and how they continue to play an indispensable role in our lives and imaginations."
"At a moment when the destruction of the world's forests is accelerating at a record pace, Among the Trees brings together the work of leading international artists who urge us to think about the essential roles that trees and forests play in our lives and psyches. Hopefully visitors will leave the exhibition with a renewed sense of appreciation for both the beauty and complexity of these indispensable organisms."
CURRENT EXHIBITIONS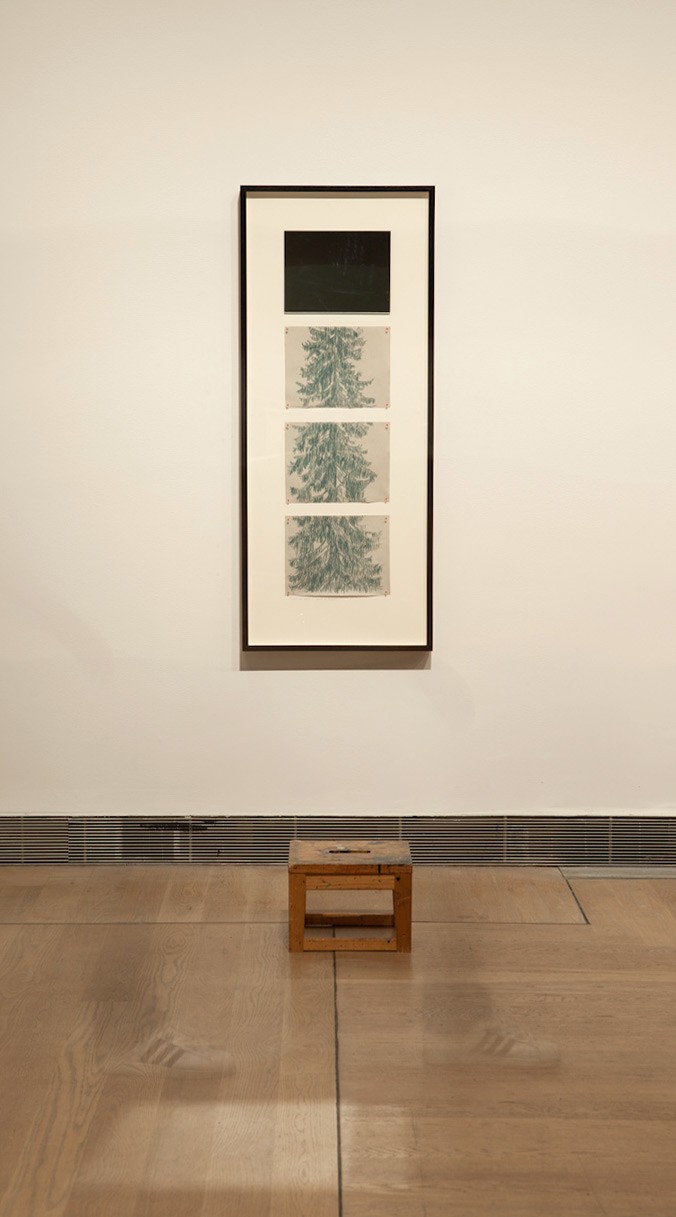 SCREENER SHOWS BY EIJA-LIISA AHTILA
STUDIES ON THE ECOLOGY OF DRAMA – Marian Goodman Gallery, New York, USA, Apr 24 - May 4, 2020
"2020 marks the 50th anniversary of #EarthDay. Join us this year in honoring the Earth by streaming Eija-Liisa Ahtila's "Studies on the Ecology of Drama," 2017, which is now live on our website"
www.mariangoodman.com
IF 6 WAS 9 – Helena Anrather Gallery, New York, USA, Apr 13 - May 13, 2020
helenaanrather.com –Screening on Thursday, Apr 30th
CURRENT EXHIBITIONS BY EIJA-LIISA AHTILA
HORIZONTAL – Among the Trees, Hayward Gallery, Southbank Centre, London, UK, Mar 4 - Oct 31, 2020 –OPEN
www.southbankcentre.co.uk
HORIZONTAL – Axis of Horizon, National Museum of Contemporary Art, Seoul, South Korea, May 6 - May 31, 2020
www.mmca.go.kr
www.e-flux.com
SCULPTURE IN THE AGE OF POSTHUMANISM – Lehmbruck Museum, Duisburg, Germany, Sep 28, 2019 - Jan 26, 2020
TODAY – M10, Momentum Kunsthall, Moss, Norway, Jun 8 - Oct 9, 2019
STUDIES ON THE ECOLOGY OF DRAMA – Hollybush Gardens, London, UK,
Jul 12 - Aug 15, 2019
THE ANNUNCIATION – Dommuseum, Mainz, Germany, Mar 7 - Jul 7, 2019
THE BRIDGE – Scandinavia House, New York, USA, Feb 21 - Jun 14, 2019
THE BRIDGE – The Phillips Collection, Washington, D.C., USA,
Oct 13, 2018 - Jan 31, 2019
FISHERMEN – Video Video, Nikolaj Kunsthal, Copenhagen, Denmark,
Jan 12 - 27, 2019
POTENTIALITY FOR LOVE – Serlachius Museums, Mänttä, Finland,
Feb 3, 2018 - Jan 6, 2019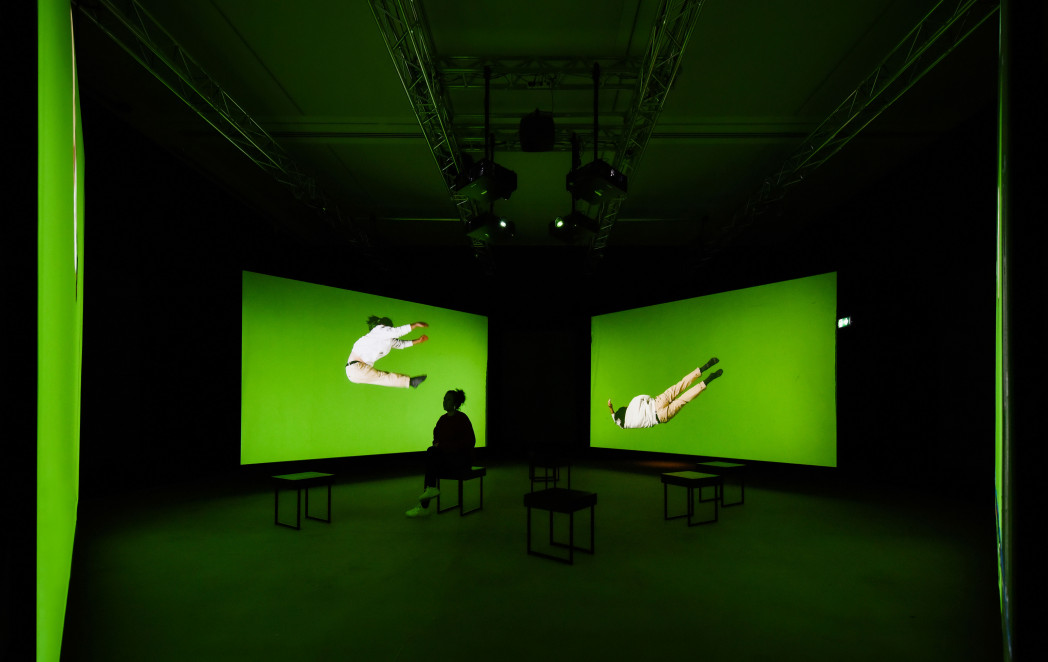 POTENTIALITY FOR LOVE (2018)
Moving image sculpture in 3 parts:
#1 – Angular video sculpture of twenty-two DIP LED modules
#2 – Two research tables with attached 'monitor mirrors'
#3 – Vertical single channel projection
POTENTIALITY FOR LOVE deals with the potential for empathy and love towards other living beings. It turns attention to those human emotions that could serve as a foundation for dismantling the hierarchical structures between living things, thereby engendering a turn towards non-humans and the recognition of others. The work reflects the origins of these emotions, how we define them and how we conceive of their function as part of a larger continuum of living beings.
Lehmbruck Museum, Duisburg, Germany, Sep 21, 2019 - Jan 26, 2020
Serlachius Museums, Mänttä, Finland,
Feb 3, 2018 - Jan 6, 2019
M-Museum, Leuven, Belgium,
May 18 - Sep 16, 2018
21st Biennale of Sydney, Australia,
Mar 16 - Jun 11, 2018
Marian Goodman Gallery, Paris, France,
Mar 3 - Apr 8, 2018
RECENT SCREENINGS
FORTHCOMING SCREENINGS
will be updated at a later stage
STUDIES ON THE ECOLOGY OF DRAMA by EIJA-LIISA AHTILA
Institut Finlandais, Paris, France, Nov 30, 2019
THE ANNUNCIATION by EIJA-LIISA AHTILA
Filmforum, Duisburg, Germany, Oct 10, 2019
THE HOUR OF PRAYER by EIJA-LIISA AHTILA
Filmforum, Duisburg, Germany, Oct 10, 2019
TODAY by EIJA-LIISA AHTILA
Filmforum, Duisburg, Germany, Oct 10, 2019
IF 6 WAS 9 by EIJA-LIISA AHTILA
Filmforum, Duisburg, Germany, Oct 10, 2019
ME/WE, OKAY, GRAY by EIJA-LIISA AHTILA
Filmforum, Duisburg, Germany, Oct 10, 2019
POTENTIALITY FOR LOVE
'The human' is achieved by escaping or repressing not just its animal origins in nature, the biological, and the evolutionary, but more generally by transcending the bonds of materiality and embodiment altogether."
Moving image sculpture in 3 silent parts dealing with the potential for empathy and love towards other living beings.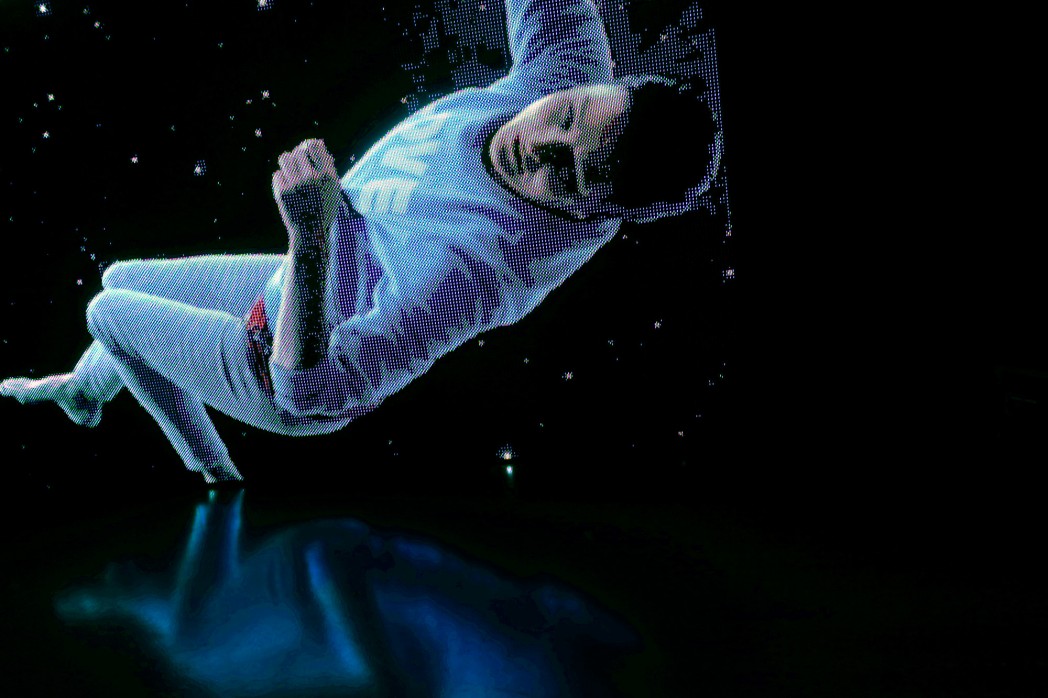 Studies on the Ecology of Drama
STUDIES ON THE ECOLOGY OF DRAMA
"How to depict living things? How to approach them? How to convey a different way of being, another being's world? How to make it into a continuous event that becomes part of our idea of reality?"
4-channel projected moving image installation and single-channel film that uses the methods of presentation as a path to the company of other living beings. It expands upon the issues of ecological moving image narrative explored in her previous works – the focus in this work being on presentation, imaging and imagination in the context of the moving image.
RECENT PUBLICATIONS
FRANCESCA WOODMAN & EIJA-LIISA AHTILA
On Visuality and the Presentation of Emotions in the Space of Media Art
The phenomenological encounter with the works of the American photographer Francesca Woodman and the Finnish video artist Eija-Liisa Ahtila forms the focus of the publication. The relationship between the body and space is explored in the context of perception and emotion, making use of theories of embodiment as well as recent research in emotion studies.
RETROSPECTIVE CATALOGUE OF AHTILA'S WORKS IN SPANISH
On the occasion of Eija-Liisa Ahtila's major retrospective in Spain, MAC Museo de Arte Contemporáneo of A Coruña is publishing together with DARDO, the first Spanish language catalogue by Eija-Liisa Ahtila, presenting a cross section of her work.
The catalogue spans over 200 pages of museum views of installed works, photographic works, film stills and screen captures. The catalogue features a previously unpublished text by art historian Hanna Johansson The Temporal and Ecological Sphere of Eija-Liisa Ahtila's Film and The Moving Image as Witness by author Mieke Bal. Studies on the Ecology of Drama, Horizontal, Anthropomorphic Exercises on Film, The Annunciation, The House, Today and Dog Bites have been photographed at MAC and these never seen photographs are included, together with views from other shows by the artist.
ECOLOGIES OF DRAMA – TEXT ANTHOLOGY PUBLISHED IN USA
Albright-Knox Art Gallery has published a 300-page anthology featuring texts on Eija-Liisa Ahtila's moving image works. The anthology, titled "Eija-Liisa Ahtila: ECOLOGIES OF DRAMA – Collected Writings, Interviews, and Scripts", features a great variety of essays and conversational articles by various authors, as well as the synopses and scripts of all Ahtila's moving image works.
The anthology is an excellent source book of Ahtila's works, and describes how she has been a groundbreaking artist since the beginning of the 1990s, pioneering in creating a new genre in contemporary art, the multi-channel moving image installation.
PUBLICATION IN-PRODUCTION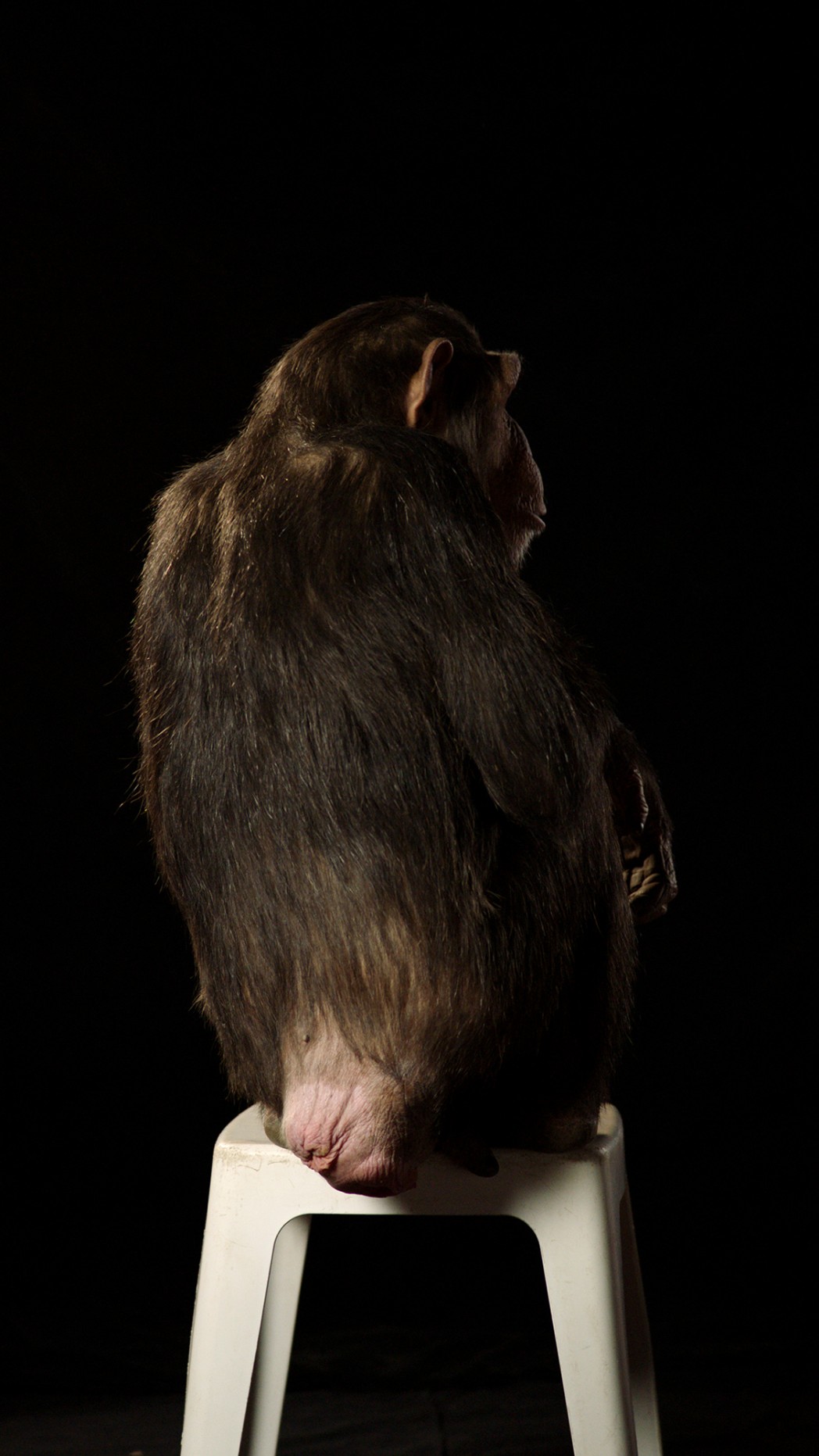 POTENTIALITIES OF LOVE
An extended, thematic book inspired by Eija-Liisa Ahtila's sculptural installation.
Potentialities of Love reflects on themes central to Ahtila's artistic practice. It expands on the visual approach of her thoughts, using her latest hybrid cinematic installation, Potentiality for Love as a starting point.
It focuses on Otherness, Animal Lives, and Love/Compassion, and discusses how these three themes are interlinked. —1st part of the book is providing a brief sketch for a historical/philosophical background of the construction of the concept of the animal as the other. 2nd part discusses embodiedness and vulnerability, from the point of animals' experience and biographies. 3rd part is returning to the theme of love and its connection with the other, and expands on the artist's work in relation to an aesthetics of love.
These themes are central to Eija-Liisa Ahtila's artistic thinking, especially as she has been engaging with animals' experience and intersubjectivity between animals and humans. Creatureliness traverses all her work — how can the sense of creaturely exposure and mutual belongingness be evoked in moving image installations; is it possible for this sense to become a basis for an ethics of nonviolence?
Potentialities of Love is 'an intellectual art book', which by using variety of image sources and contemporary graphics design approach —combined with high end print quality— elevates the book format to a level of an independent work of art.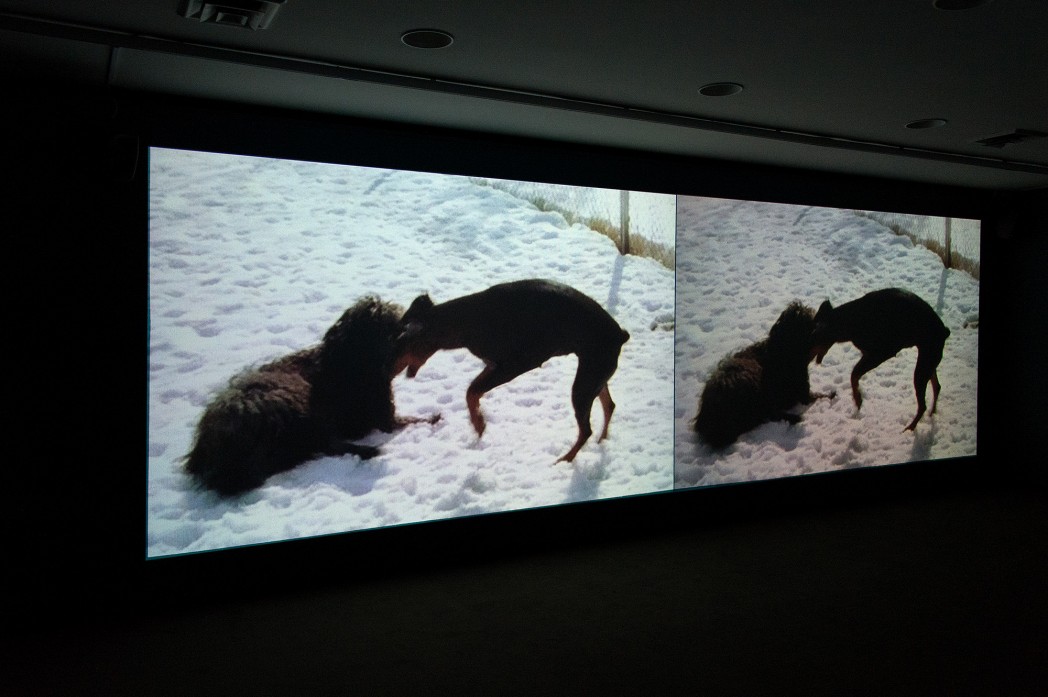 RECENT Photographic work
HORIZONTAL is a six-image portrait of a living spruce. —The work is a record of its existence as a living organism, or perhaps more to the point, a presentation of the difficulty of perceiving and recording a spruce tree with the methods of visual documentation invented by humans.
New installation views, photos, snapshots and phonepics from Eija-Liisa Ahtila's shows – before, during and after the opening itself.
4K/2K DIGITAL RESTORATION PROJECT
Crystal Eye is remastering all existing works, installations and films by Eija-Liisa Ahtila and Ilppo Pohjola. Detailed digital restoration is executed from the original camera and laboratory negatives and the original audio sources to reach maximum image and audio quality – without losing artist's original intention and the film look. The project will be finished by the end of this year.
RECENT AFFAIRS FROM THE ARCHIVES
A LIE NEEDS ONLY TO BE REPEATED
TEN TIMES TO BECOME TRUE
(English translation)
VALHE TARVITSEE...
by EIJA-LIISA AHTILA
1987 | Text installation on bulletin boards and stickers
---
Eija-liisa Ahtila
Eija-Liisa Ahtila is a contemporary visual artist and filmmaker. She experiments with narrative storytelling in her films and cinematic installations. In her earlier works she has dealt with the unsettling human dramas at the centre of personal relationships, dealing e.g. with teenage sexuality, family relations, mental disintegration and death. Her later works deal with profound and basic artistic questions where she investigates the processes of perception and attribution of meaning, at times in the light of a larger cultural and existential thematic like colonialism, faith and posthumanism.
MAP
Eija-Liisa Ahtila's exhibitions, film screenings and related projects around the world.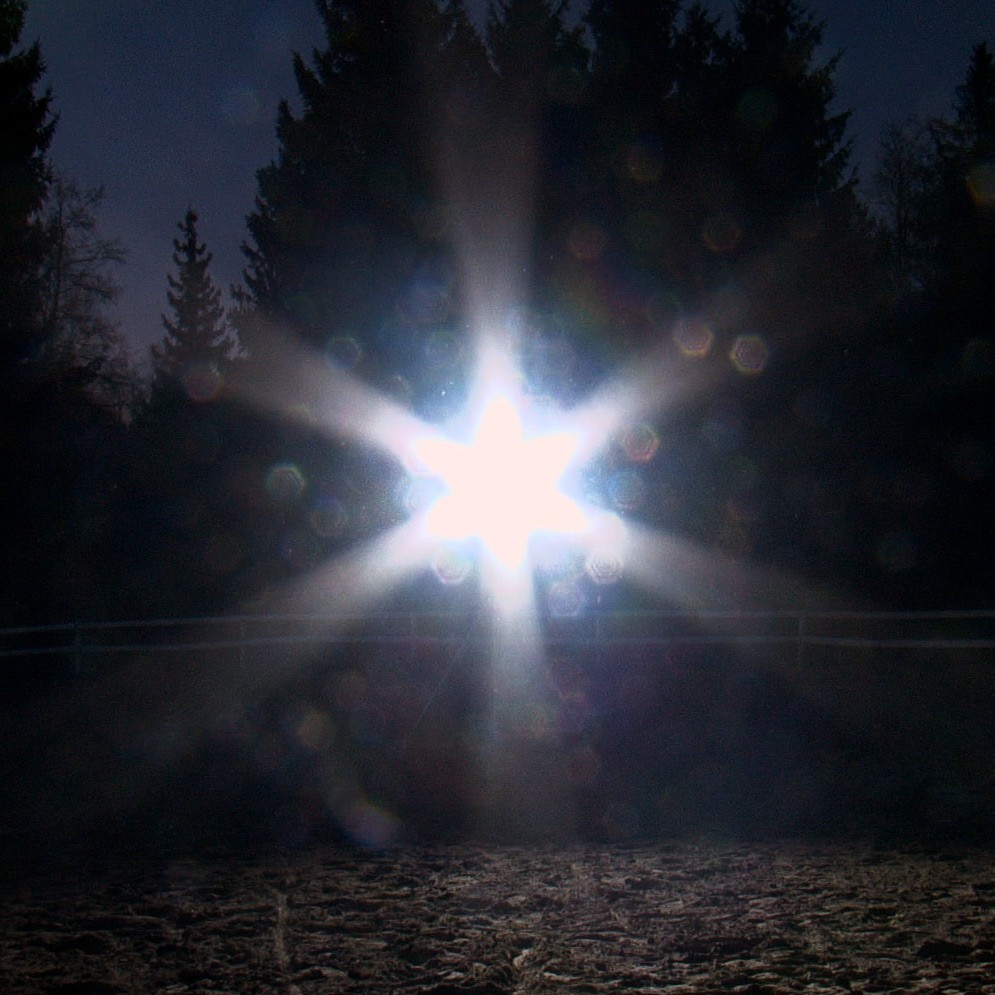 In Spotlight
SHARING... constantly under construction
LOVE @ SYDNEY
LOVE IN PARIS
LOVE IN FINNISH