EIJA-LIISA AHTILA @ MMCA, SEOUL, KOREA
"Axis of Horizon introduces notable works by international artists who propose new perspectives from which to see nature. With the COVID-19 taking a toll on societies in Korea and other parts of the world, I hope that the works in this exhibition offer consolation, a sense of healing, and new artistic discourses for the audience to find new hope."
Axis of Horizon
April 6–May 17, 2020
National Museum of Modern and Contemporary Art, Seoul
The National Museum of Modern and Contemporary Art, Korea (MMCA, director Youn Bummo), presents the international contemporary art exhibition Axis of Horizon from Monday, April 6 through Sunday, May 17 at MMCA Seoul.
Centering on the MMCA's recent acquisitions from across the globe, this exhibition features some 70 works by 17 Korean and overseas artists. The title Axis of Horizon alludes to the various approaches to interpreting nature—acts perceivable as erecting axes on the horizontal plane that is the earth. Exhibited works comprehensively probe the relationship between nature and human beings in social and historical contexts.
The exhibition introduces various contemporary reinterpretations of nature under three themes: "The Whole of Parts," "The Volume of Phenomena," and "The Other Side of Places." "The Whole of Parts" consists of works that provide insight into life itself through partial reflection of nature. Shown for the first time since acquisition is Horizontal-Vaakasuora (2011), a a six-minute six-channel video by Finnish artist Eija-Liisa Ahtila, and also premiering in Korea is Dark Earth (Cosmos) by Teresita Fernández.
Working prolifically between Europe and the United States and relatively under recognized in Korea, Eija-Liisa Ahtila (b.1959) is an internationally renowned artist and filmmaker whose works have been shown at major international art events such as the Venice Biennale (1995, 2005), documenta 11 (2002), the São Paulo Biennale (2008), and the Biennale of Sydney (2002, 2018).
"The Volume of Phenomena" comprises works that explore and visualize natural phenomena caused by factors such as seasons, weather, water, smoke, ice, and air. Among the works is Penetrate (1988) by Jesús Rafael Soto, reinstalled for the first time in two decades since its acquisition and installation at MMCA Gwacheon, prompting renewed perception of non-material elements.
"The Other Side of Places" deals with present-day paradoxes unfolding underneath particular landscapes, examining the near future and history. Premiering from the MMCA's collection is Ghost Island (2019) by MAP Office and The Silent Movie (2010), a representative piece of Laurent Grasso's.
EIJA-LIISA AHTILA @ HAYWARD GALLERY, LONDON, UK
"Now when the destruction of the world's forests is accelerating at a record pace, the exhibition brings together the work of artists who urge us to think about the essential roles that trees and forests play in our lives and psyches. Hopefully visitors will leave the exhibition with a renewed sense of appreciation for both the beauty and complexity of these indispensable organisms."
Among the Trees
4 March - 17 May 2020
Hayward Gallery
Among the Trees celebrates key works of art that reimagine how we think about trees and forests. Spanning the past 50 years, the exhibition brings together major works by 38 leading international artists from five different continents. As well as illuminating the beauty and visually arresting character of trees, Among the Trees invites us to consider trees as both symbols and living organisms. Timed to coincide with the 50th anniversary of Earth Day, the exhibition explores how trees have shaped human civilization and how they continue to play an indispensable role in our lives and imaginations.
Among the Trees covers an expansive and adventurous artistic terrain with works ranging from immersive video installations to life-sized sculptures; from large-scale paintings and drawings to intimate black-and-white photographs. Participating artists a re: Robert Adams, Eija-Liisa Ahtila, Yto Barrada, Johanna Calle, Gillian Carnegie, Tacita Dean, Peter Doig, Jimmie Durham, Kirsten Everberg, Anya Gallaccio, Simryn Gill, Rodney Graham, Shi Guowei, Hugh Hayden, Eva Jospin, Kazuo Kadonaga, William Kentridge, Toba Khedoori, Luisa Lambri, Myoung Ho Lee, Zoe Leonard, Robert Longo, Sally Mann, Steve McQueen, Jean-Luc Mylayne, Mariele Neudecker, Virginia Overton, Roxy Paine, Giuseppe Penone, Abel Rodríguez, Ugo Rondinone, George Shaw, Robert Smithson, Jennifer Steinkamp, Thomas Struth, Rachel Sussman, Pascale Marthine Tayou and Jeff Wall.
The works in the exhibition take us on a journey of ideas and simultaneously transport us across the globe: visitors will encounter images of Colombian rainforests, jungles in Japan, olive orchards in Israel, Scandinavian woods and an underground forest in South Africa. Incorporating distinctive and often surprising perspectives, the artists in the exhibition question our conventional representations of trees in order to forge new ways of understanding our crucial and multifaceted relationship with arboreal life.
Among the Trees will be divided into three sections. In the first, visitors encounter images of trees and forests that call attention to characteristics of complexity and connectivity in nature, chiming with recent scientific discoveries about the "wood wide web" – the network of underground roots, fungi and bacteria that connects forest organisms. Like Robert Longo 's giant charcoal drawing of a massive tree, the works in this section dramatise the intricate architecture of branch and root systems. Along with a looming six-metre-high wooden sculpture by Giuseppe Penone and a 16-metre-long video portrait of a 34-metre-long Finnish spruce by Eija-Liisa Ahtila, several of these works also remind us of how trees set our sense of scale. The exhibition's second section features works that play with the blurring line between our concepts of nature and culture. Artists such as photographer Robert Adams examine the impact of present-day human activity on nature, with industrial farming and the clearcutting of woodlands; others, like Zoe Leonard, consider how trees unexpectedly adapt to man-made urban milieus. In other works, trees appear as valuable sources of sustenance as well as objects of decor. Additionally, a number of artworks within this section cast trees as silent witnesses of forgotten histories: artist and film director Steve McQueen, for instance, presents a photograph, taken outside New Orleans, of an innocent-looking tree that was formerly used as a gallows for lynching black Americans.
In the final section of Among the Trees, artists explore the theme of time. Reflecting
seasonal changes and with life spans that far exceed our own, trees have long served in art as symbols for invoking mortality. Ugo Rondinone 's sculptures of ancient olive trees, cast in aluminium from moulds of living specimens, stand as twisted memorials of condensed time. Colour photographs by Rachel Sussman document some of the world's most ancient trees, including a 9,500-year-old spruce in northern Sweden, while Jennifer Steinkamp 's 15-metre-long animated video projection places us in the midst of a birch forest as it cycles through the four seasons.
EIJA-LIISA AHTILA @ U-JAZDOWSKI, WARSAW
" An especially important point for the review, because it refers directly to the cinematic language, is the artistic essay Studies on the Ecology of Drama by Finnish artist Eija-Liisa Ahtila. She proposes exercises with a camera, showing interventions which are crucial for the construction of film subjectivity and shocking in their simplicity. "
EIJA-LIISA AHTILA RETROSPECTIVE @ M MUSEUM, LEUVEN
"Eija-Liisa Ahtila is a contemporary visual artist and filmmaker. She experiments with narrative storytelling in her films and cinematic installations. In her earlier works she has dealt with the unsettling human dramas at the centre of personal relationships. Her interest includes the processes of perception and attribution of meaning, at times in the light of a larger cultural and existential thematic like colonialism, faith and posthumanism. The recent works have widened the focus from people onto their environment, departing from a biopolitical perspective. For M, she has selected seven monumental works that provide a selective retrospective of her oeuvre."
ELA @ AUSTRALIAN CENTER FOR MOVING IMAGE, MELBOURNE
"ACMI presents Eija-Liisa Ahtila: Studies on the Ecology of Drama, a four-screen projected installation on view from 5 December, 2017 to 25 February, 2018. Filmed in the Finnish countryside, a 'human actor' guides us through a series of thoughtful yet playful visual exercises. Using animation and visual effects, we're invited to consider the way cinema contributes to understanding our place in the natural world. Featuring a juniper tree, a common swift, a horse, a butterfly and a group of acrobats, the work encourages us to imagine how the moving image can be used to explore the experience of non-human beings in this time of ecological crisis." (MGG)
"Studies on the Ecology of Drama is a four-screen installation by renowned Finnish filmmaker and artist Eija-Liisa Ahtila. Against the backdrop of the Finnish countryside, a 'human actor' guides us through a series of thoughtful yet playful visual exercises. Through meditative animation and visual effects we're invited to consider how cinema constructs our relationship to nature. Featuring a juniper tree, a common swift, a horse, a butterfly and a group of acrobats, the work encourages us to imagine how the moving image can be used to explore the experience of non-human beings in this time of ecological crisis." (ACMI)
EIJA-LIISA AHTILA @ THE 21st BIENNALE OF SYDNEY
"The curatorial premise of the 21st Biennale of Sydney is an exhibition that will explore multiple viewpoints in search of a state of equilibrium. With a holistic view, the Biennale will also seek in-depth engagement with individuals and communities while exploring a range of perspectives and meanings of abstractions."
Announcing the first 21 artists of the 21st Biennale of Sydney. – We are thrilled to announce the first 21 artists of the 21st Biennale of Sydney:
Eija-Liisa Ahtila (Born 1959 in Finland, lives and works in Helsinki)
Ai Weiwei (Born 1957 in China, lives and works in Beijing)
Brook Andrew (Born 1970 in Australia, lives and works in Melbourne)
Oliver Beer (Born 1985 in England, lives and works in Paris and London)
Anya Gallaccio (Born 1963 in Scotland, lives and works in San Diego and London)
Laurent Grasso (Born 1972 in France, lives and works in Paris and New York)
N.S. Harsha (Born 1969 in India, lives and works in Mysore)
Mit Jai Inn (Born 1960 in Thailand, lives and works in Chiang Mai)
Kate Newby (Born 1979 in New Zealand, lives and works in Auckland and New York)
Noguchi Rika (Born 1971 in Japan, lives and works in Okinawa)
Nguyen Trinh Thi (Born 1973 in Vietnam, lives and works in Hanoi)
Ciara Phillips (Born 1976 in Canada, lives and works in Glasgow)
Koji Ryui (Born 1976 in Japan, lives and works in Sydney)
Semiconductor (Ruth Jarman, born 1973 in England, and Joe Gerhardt, born 1972 in England, live and work in Brighton)
Yasmin Smith (Born 1984 in Australia, lives and works in Sydney)
George Tjungurrayi (Born c. 1943 in Australia, lives and works in Kintore)
Nicole Wong (Born 1990 in Hong Kong, lives and works in Hong Kong)
Wong Hoy Cheong (Born 1960 in Malaysia, lives and works in Kuala Lumpur)
Yukinori Yanagi (Born 1959 in Japan, lives and works in Hiroshima)
Haegue Yang (Born 1971 in South Korea, lives and works in Berlin and Seoul)
Jun Yang (Born 1975 in China, lives and works in Vienna, Taipei and Yokohama)
Artistic Director, Mami Kataoka, is in discussion with a number of artists and anticipates the exhibition will include around 70 artists in total, each presenting ambitious new commissions or recent work for the 45th anniversary of the Biennale.
On the direction and themes of the next edition, Mami Kataoka says:
"The exhibition will be a journey; a walk through microcosms of the world today based on the stratum of history, human knowledge, emotions, desires and beliefs, as well as the mysteries of natural phenomena and the whole of the universe."
The exhibition will also revisit the Biennale's rich history through a close examination of its Archive, drawing on 45 years of art and encounters. Further detail, including the title, themes and key concerns informing the exhibition, will be announced in July this year.
The 21st Biennale of Sydney will be presented over twelve weeks from Friday, 16 March until Monday, 11 June 2018 (Preview 13-15 March).
EIJA-LIISA AHTILA retrospective @ MAC IN A CORUNA
Ecologies of Drama, which is on view until 10 September 2017, is the first major solo exhibition by Eija-Liisa Ahtila in Spain.
Museo de Arte Contemporáneo (MAC) de la Fundación Gas Natural Fenosa is presenting the exhibition Ecologies of Drama by Eija-Liisa Ahtila, the internationally celebrated Finnish contemporary visual artist and filmmaker, at its headquarters in A Coruña. The exhibition, revolving around man's relationship with Nature, includes five projected installations, a series of photographs and a series of drawings.
Love, sex, jealousy, rage, vulnerability and reconciliation are just some of the emotions Ahtila explores in her works. The Finnish artist describes her works as "human dramas", fictional narratives that arise after long periods of investigation, as well as her own observations and experiences. In her recent output, she is also rethinking the boundaries between the "self" and the "other", inviting spectators to look inside the mind of individuals trapped in moments of psychological fragility.
Conceptually, her work explores the construction of the image, language, narration and space. Making use of cinematographic visual language, Ahtila presents large-scale installations in which she projects images on various screens to enable various simultaneous narrations and multiple viewpoints. These conditions for simultaneous visualisation break with the idea of cinematic perspective and construct a new coexistent experience of space and time.
Ahtila's ecological installations – The Annunciation and Horizontal, as well as Studies on the Ecology of Drama – challenge the viewer to undertake a journey to an imagining, to venture onto the very edge of the received and the taught, a place where the spheres of another species can begin.
*
The Finnish artist Eija-Liisa Ahtila started working in the eighties, after training at the Free Art School in Helsinki. Later she would also study at the School of Management, Film and Video of London (1990-91) and at the American Film Institute in Los Angeles. Ahtila is a pioneer in the use and diffusion of video art in Finland and, throughout her career, has become a key player in this discipline worldwide.
Since the mid-nineties, Eija-Liisa Ahtila (Hämeenlinna, Finland, 1959) has shown her work in international film festivals and events. In 1998, her work was showcased at the Manifesta European Biennial of Contemporary Art. Ahtila has also had many group and one-person exhibitions at major contemporary art museums around the world. Her polysemous video Consolation Service, a deconstruction of cinematographic illusion, was awarded at the 51st Venice Biennale in 1999. In 2000, Ahtila won the Vincent Award. In 2002, she exhibited at Tate Modern, and in 2006 she exhibited her multi-screen video The Wind at MoMA, and that same year she also won the Artes Mundi Prize in Cardiff, Wales.
*
Museo de Arte Contemporáneo (MAC) de la Fundación Gas Natural Fenosa is a multidisciplinary contemporary cultural centre, a dynamic, flexible and open space that combines exhibitions and activities conceived to actively involve the general public, with the purpose of stimulating artistic creation across all forms of cultural expression.
Over the years, MAC has consolidated a reputation not only as an exhibition centre but also as a meeting place for artists, art lovers and the general public, offering a wide-ranging programme of cultural, educational, social and artistic activities that includes temporary exhibitions, symposiums, workshops for schools and for professionals.
eija-liisa ahtila @ GUGGENHEIM BILBO, EUSKADI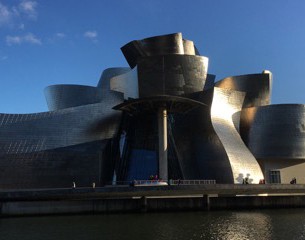 From May 12 to August 28, 2016, the Guggenheim Museum Bilbao is proud to present the Spanish premiere of Eija-Liisa Ahtila's The Annunciation (2010). This will be the seventh work to appear in the Museum's Film & Video Gallery, inaugurated in 2014 and dedicated to video art, video installation, and the moving image.
Eija-Liisa Ahtila (b. 1959, Hämeenlinna, Finland) shot The Annunciation on the snowy Aulanko Nature Reserve in southern Finland during the winter of 2010. The installation consists of three projections which reenact a well-known passage in the Gospel of Luke (1:26–38) that narrates one of the most important themes in Christian iconography, which is also the central motif of some of the earliest paintings to successfully use perspective.
The first part of the work is shot in a matter-of-fact documentary style with digital cameras. It begins with a group of women who are preparing to stage the event of the Annunciation, when the Archangel Gabriel appears to Mary to tell her that she will be the mother of God's Son. We see the test flight of the Archangel, the women discussing the various roles they have been assigned, and the woman who plays the part of Mary learning how to ride a donkey. We can also see different pictorial depictions of the encounter between the Virgin and the Archangel and Mary's reactions in them. At the end of the rehearsals, the artist changes the tone and medium, using 35mm film to show Gabriel gliding across a beautiful tulip garden and through a glass window into the real space of the actors—a moment of angelic intrusion in the ordinary world.
The piece ends with an idyllic image of the young woman cast in the role of the Virgin Mary, no longer garbed in the bright blue we associate with Renaissance Madonnas, accompanied by a donkey, while Townes Van Zandt's song "No Place to Fall" plays in the background. There is a clear contrast between the interior scenes, made to resemble the artist's studio where the set of the Annunciation reenactment was built, and the snow-covered landscape outside.
Although based on an existing script, the action and dialogue were adapted to each actor's individual presence during the filming process. All of the performers except two are non-professionals, and most of them are clients of the Helsinki Deaconess Institute's women's support services. The animal actors are a trained raven, two donkeys, and a group of carrier pigeons from a bird farm.
The underlying viewpoint in this Annunciation is Estonian biologist Jacob von Uexküll's (b. 1864; d. 1944) idea that the different worlds of living beings all exist simultaneously. This concept implies certain limits, because it means living with and next to others; the same idea is also used to explore the nature of miracles and the possibilities of perception and knowledge. In the work, the actors are engaged in a process of reconstructing the sacred and redefining the human through the divine and the animal.
Eija-Liisa Ahtila: The Annunciation
May 12–August 28, 2016
Curator: Lucía Agirre
Film & Video Gallery (103)
ABOUT EIJA-LIISA AHTILA
Eija-Liisa Ahtila studied filmmaking at the London College of Printing, UCLA, and the American Film Institute in Los Angeles. In 1990 she received the Young Artist of the Year Award in Tampere, Finland. Since then, she has won numerous grants and awards, including an AVEK award for important achievements in the field of audiovisual culture (1997), the Edstrand Foundation Art Prize (1998), a DAAD fellowship (1999), honorary mention at the 48th Venice Biennale (1999), the Vincent Van Gogh Biennial Award for Contemporary Art in Europe (2000), and a five-year grant from the Central Committee for the Arts (2001), as well as the Artes Mundi Prize (2006). Most recently, she was awarded the Prince Eugen Medal for outstanding artistic achievement (2009).
She participated in Documenta XI (2002) and the 50th Venice Biennale (2005), as well as the 5th Moscow Biennale (2013). Important recent solo exhibitions have been shown at the Albright-Knox Art Gallery, Buffalo (2015-16), Moderna Museet, Stockholm (2012), the Jeu de Paume, Paris, and the Kunstsammlung Nordrhein-Westfalen in Dusseldorf (2008).
Film & Video (Gallery 103)
The Film & Video Gallery is devoted to video art, video installations, and the moving image, both from the Guggenheim Museums and from other international collections. The gallery opened in March 2014 with Christian Marclay's installation The Clock. In June it featured Icelandic artist Ragnar Kjartansson's The Visitors, and from October 2014 to March 2015, Rineke Dijkstra's video installation The Krazyhouse (Megan, Simon, Nicky, Philip, Dee), Liverpool, UK) was presented in this gallery. Between March and July, the film series Thread Routes produced by conceptual artist Kimsooja was on display, followed by Shahzia Sikander's Parallax from July to November 2015. Finally, from December 3, 2015, to April 24, 2016, the gallery hosted Singapore-born artist Ho Tzu Nyen's installation The Cloud of Unknowing.
Eija-Liisa Ahtila
Marian Ilmestys — The Annunciation, 2010
3-channel projected high-definition installation with 5.1 channel audio
28 min., 25 sec.
Courtesy of the artist and Marian Goodman Gallery
For more information:
Guggenheim Museum Bilbao
Marketing and Communications Department
Tel: +34 944 359 008
media@guggenheim-bilbao.es
www.guggenheim-bilbao.es
EIJA-LIISA AHTILA @ SALON DAHLMANN, BERLIN
"A gigantic spruce, it's branches swaying gently in the wind, which is blowing through myriads of very fine needles. The video installation Horizontal (2011) is the portrait of a single tree, almost large as life and tilted by ninety degrees. This is not the only work that gives anyone willing to open themselves up to the multi-dimensional complexity of Eija-Liisa Ahtila's art a pleasant sensation of dizziness.
Faced with the self-imposed challenge of fitting a spruce more than forty meters high into the square of a camera viewfinder, Ahtila saw only two options at first: to capture it from some distance in the context of a landscape, or from right up close. But in that case, the beautiful, even form of the tree would have come too short because of the distortion such a perspective brings with it. So the artist decided to film the tree in six sections using a lifting platform. The result is a cinematic portrait that is as simple and natural as it is alien. The example of the tree shows that it is a specific human 'distortion through perspective' that determines how we see the world.
As part of her multi-layered work, the Finnish film and video artist Eija-Liisa Ahtila has repeatedly made the relativity of our perception as the subject of her work. Film as a medium allows us to show the world as we see it. And yet, at the same time, it has the potential to open up simultaneous perspectives of one and the same reality.
Anthropocentrism places human beings at the centre of the world. But how far can our understanding of the world reach when our perception is restricted by senses that are specifically human? It is precisely this question that Ahtila's newest work Studies of the Ecology of Drama (2017) examines. Stylistically reminiscent of a film used for teaching purposes, it playfully presents 'exercises' in a new way of seeing – and takes us step for step out of our anthropocentric certainty and into a fascinating 'terrain vague'. As will become apparent, even a small and unassuming tree nursery in Finland is home to an entire microcosm of alternative perceptions of the world.
Me/We, Okay, Gray (1993) shows three relationship dramas condensed into a few seconds using the aesthetics of Film Noir and, with it, the exhibition narrative takes us back to the beginnings of Eija-Liisa Ahtila's artistic praxis. In the almost 25 years of her creative work, the artist has found very different ways to break open our restrictive, all too human subjectivity and to open up to us with her camera a kaleidoscopic diversity made up of very different worlds of perception."
EIJA-LIISA AHTILA - ECOLOGIES OF DRAMA
12.09. - 16.12.2017
Salon Dahlmann, Marburger Straße 3 10789 Berlin
eija-liisa ahtila @ marian goodman gallery, new york
Marian Goodman Gallery is pleased to announce the exhibition of a 4-screen moving image installation by Eija-Liisa Ahtila, Studies on the Ecology of Drama, in our Third Floor Gallery between 1 March – 22 April 2017.
The film version of this work had its premier at 'Forum Expanded' at the 67th Berlin International Film Festival this month. The work was also included in the comprehensive survey of Ahtila's work which took place at the Albright Knox Art Gallery in 2015.
Eija-Liisa Ahtila has long been considered a master of the cinematic installation form. Her work is conceptually organized around the construction of image, language, narrative, and space, and she has often probed individual identity and the boundaries of the subject in relation to the external world. Using the visual language of cinema, Ahtila presents large-scale installations with split-screen projections on multiple panels. These viewing conditions, with their simultaneously charged vantage points, break the tradition of cinematic perspective and construct an experience of several co-existing times and spaces for being.
The starting point of Ahtila's recent works (The Annunciation, 2010; Horizontal, 2011) and research has been the eco-cinematic questions: how and with what kind of technology, drama and expressive devices can we build the image of our world in this present moment of ecological crisis.
Studies on the Ecology of Drama continues this urgent enquiry – employing renowned Finnish actor Kati Outinen as a narrator/performer who speaks directly to the viewer in the tradition of lecture-performance. She talks us through the issues and themes of an ecology of drama, using examples to disabuse us of our usual expectations and associations – and opening up space for other types of presentations and performers. These performers include a bush, a juniper tree, a common swift, a horse, a brimstone butterfly, and a group of human acrobats. In short, she encourages us to explore how the anthropocentric medium of film might enable us to narrate the very life of the planet – as well as our own with our fellow beings - at this critical moment.
Eija-Liisa Ahtila studied at the University of California, Los Angeles, at the London College of Printing and at the University of Helsinki. Her work has been exhibited in solo shows at: Guggenheim, Bilbao; Oi Futura, Rio de Janeiro; Albright Knox Art Gallery; The Israel Museum; Serlachius Museum, Finland; Lehmbruck Museum, Germany; Kiasma, Finland; Moderna Museet, Stockholm; DHC/Art Foundation for Contemporary Art, Montreal; Jeu de Paume Paris; K21 Kunstsammlung Nordrhein-Westfalen, Dusseldorf; The Museum of Modern Art, New York; Parasol Unit, London; Museo d'Arte Moderna e Contemporanea, Bolzano, Italy; Dallas Museum of Art, Dallas; Dundee Contemporary Arts, Dundee, Scotland; Kunsthalle Zurich; Tate Modern, London. She will have a solo exhibition at the Museo de Arte Contemporáneo in La Coruña in 2017 and at the Serlachius Museum, Mänttä, Finland and Museum M, Leuven in 2018.
Her work has also been included in many international group exhibitions, including the Venice Biennale (2005 and 1999); Documenta 11, Kassel (2002) and will be part of the upcoming Sydney Biennial. Her films have been included in many major festivals including Berlin, Sundance, Venice and Oberhausen. In 2011 she was appointed to the main jury of the Venice Film Festival and in 2013 she was the chairwoman of the jury in FIDMarseille.
Ahtila has been honored with numerous prizes over the past two decades that include, most recently, becoming an Academician of Arts in Finland (2009); The Prince Eugen Medal for Outstanding Artistic Achievement, Sweden (2009); Artes Mundi, Wales International Visual Arts Prize, Cardiff, Wales (2006).
Please join us at the opening reception on Wednesday 1 March from 6 – 8 pm. For further information, please contact Linda Pellegrini, Director of Communications on 212 977 7160.
WHERE IS WHERE? by EIJA-LIISA AHTILA @ ALGERIA, OSLO
Algeria (Extract of Perfumes) is the first program of its kind in Scandinavia to focus on the Algerian diaspora as well as artists and cultural workers in Norway and across the world that have a link with Algeria, thus suggesting a non-nationalistic narrative.
Alongside a contemporary art exhibition at Khartoum Contemporary Art Center, there will be a two days screening program at Cinemateket in Oslo with René Vautier, an experimental film screening during The Dream That Kicks and poetry readings program at Café Provence.
During Algeria (Extract of Perfumes), we invite you to have a peek into Algerian history and its multiple narratives that radiate beyond borders, beyond nations, beyond ethnicity and beyond language. We invite you to listen to poetry, to dance, to chant, to watch, learn and deconstruct with us «Extract of Perfumes» or a metamorphic space where the intimate regenerate the universal, where time is obsolete, where the poetical stretches the political, where the individual reminiscence give strength to the collective memory. Algeria (Extract of Perfumes) is a space for sharing, a space for discussion, a space for free spirits, a space for everyone.
Algeria (Extract of Perfumes): 7 - 17.09.2017
FISHERMEN by EIJA-LIISA AHTILA @ La Serena, Chile
Renowned Works of Contemporary Video Art to Rethink the Relationship We Hold With Our Oceans
Fundación Mar Adentro (FMA) proposes an art and nature program for the 4th International Marine Protected Areas Congress (IMPAC4), world conference on oceans that is held every two years and this year will be held in La Serena – Coquimbo, Chile from the 4th until the 8th of September, 2017. Organized by the Ministry of the Environment of Chile, IUCN (International Union for the Conservation of Nature) and WCPA (World Commission on Protected Areas), with the support of FAO (Food and Agriculture Organization, United Nations).
In Cubo Arte, an outdoor make-shift video screening space located on Peñuelas Norte beach, La Serena, Chile, a contemporary video art program will be screening with works by the following renowned international artists: Jonathas de Andrade (Brazil), Eija-Liisa Ahtila (Finland), Fernando Arias (Colombia), Theo Jansen (Holland) and Gianfranco Foschino (Chile), among others.
This outdoor make-shift space which houses contemporary and international video art seeks to introduce a dialogue between scientific research and artistic creation within the context of marine conservation. In this cube, installed on the beach next to the venue where IMPAC4 takes place, designed by architects Josefina Fueyo and Jean Araya, seven videos will be projected continuously. Curated by Beatriz Bustos O.-Director of Culture, Art and Education of FMA-, the selected videos feature artworks that deal with themes related to fishing practices, the impact of migrations in coastal areas, marine animal life and its relationship with culture.
*
Finnish video artist, director and photographer Eija-Liisa Ahtila (1959), one of the most awarded filmmakers in the field of video art, presents Fishermen / Études n.1 (Fishermen / Study n.1) about a group of West African fishermen trying to embark on a boat in the midst of strong winds, and that fail after several attempts. Their frustration evokes the desperation of those who seek to cross borders in migrations. Ahtila's work questions the relationship between one's own body and that of another, the feminine condition, the construction of the self, perception and mental life. Her work has been exhibited at the MoMA in New York, Tate Modern in London, Jeu de Pomme in Paris and Neu Nationalgalerie in Berlin. Ahtila has received numerous awards, such as honorable mention at the 48th Venice Biennale, 1999. She is also a member of the Finnish Academy of Arts.
*
Fundación Mar Adentro develops projects on art, education and nature that propose a change with respect to the value that is placed upon natural and cultural heritage, proposing instances for scientific research to be enriched by an artistic view, and together dynamically contribute to education. We explore biodiversity conservation strategies based on scientific research of natural life in Chile that take on a multidisciplinary approach.
EIJA-LIISA AHTILA @ BERLINALE / FORUM EXPANDED
The selection process for the 67th Berlin International Film Festival / the 12th Forum Expanded is currently being finalized. This year's theme is "The Stars Down to Earth".
The search for ways to enable art to deal with an increasingly intangible reality forms an essential similarity between the selected works. Bringing one's gaze back down to earth now seems more necessary than ever before. Yet how can one use film to take hold of something real when that very concept is ever harder to grasp?
The films and installations in the programme approach this question by attempting to both look and listen as closely as possible. For example,
...in her film Studies on the Ecology of Drama, Eija-Liisa Ahtila explores ways of finding film images that move beyond cinematographic anthropocentrism by shifting her gaze away from people and onto their environment...
The works for this edition of Forum Expanded were selected by Stefanie Schulte Strathaus (head curator), Anselm Franke (Haus der Kulturen der Welt), Nanna Heidenreich (ifs internationale filmschule köln), Khaled Abdulwahed (filmmaker and artist) and Ulrich Ziemons (Arsenal – Institute for Film and Video Art), with Bettina Steinbrügge (Hamburger Kunstverein) acting as a consultant.
Ecologies of Drama - TEXT ANTHOLOGY PUBLISHED IN THE U.S.
Albright-Knox Art Gallery has published a 300-page anthology featuring texts on Eija-Liisa Ahtila's moving image works. The anthology, titled "Eija-Liisa Ahtila: ECOLOGIES OF DRAMA – Collected Writings, Interviews, and Scripts", features a great variety of essays and conversational articles by various authors, as well as the synopses and scripts of all Ahtila's moving image works.
The anthology is an excellent source book of Ahtila's works, and describes how she has been a groundbreaking artist since the beginning of the 1990s, pioneering in creating a new genre in contemporary art, the multi-channel moving image installation.
The anthology has been published in the context of Eija-Liisa Ahtila's retrospective, which is held at the Albright-Knox Gallery in Buffalo, and which shares its name with the published book, Ecologies of Drama. The exhibition showcases eight of Ahtila's moving image installations from the years 1993-2015. It is her twentieth and yet largest solo exhibition in the United States.
The curator of the exhibition and editor of the anthology is Cathleen Chaffee. The exhibition is on display until 3.1.2016. The book can be ordered directly from the gallery's own online store or for example from Amazon.com.
Eija-Liisa Ahtila: Ecologies of Drama: Collected Writings, Interviews, and Scripts (2015)
by Eija-Liisa Ahtila (Author), Cathleen Chaffee (Editor)
Hardcover: 300 pages
Publisher: Albright-Knox (2015)
Language: English
ISBN-10: 1887457194
ISBN-13: 978-1887457194
Product Dimensions: 9.5 x 7 x 0.8 inches
ALBRIGHT-KNOX ART GALLERY
Press Contact / Director of Communications
Maria Scully-Morreale
+1 – 716 – 270 - 8229
mmorreale@albrightknox.org
www.albrightknox.org
Eija-Liisa Ahtila (b. 1959 in Hämeenlinna) has had during her career already several important solo exhibitions, for example, the 2002 retrospective exhibition at Tate Modern in London and the Kiasma in Helsinki. In 2006, she became the first Finnish visual artist to be exhibited in New York's Museum of Modern Art. In 2008, she had a retrospective at Jeu de Paume museum in Paris and Düsseldorf's K21 Museum. In 2011-2012, the Parallel Worlds traveling exhibition started in Stockholm Moderna Museet and went on to Kiasma and the Nîmes Carré d'Ar. In addition, she has participated twice in the Venice Biennale (1999, 2005), Documenta in Kassel (2002, 2005) and the São Paulo Biennial (2008). Ahtila has also received significant international art prizes, such as the visual arts Artes Mundi Prize in Wales (2006), and the European contemporary art of Vincent van Gogh Award in the Netherlands (2000). She has been awarded the Prince Eugen medal in Sweden (2009) and in Finland, among various other awards, the title of Academician.
eija-liisa ahtila @ albright-knox art gallery
Ecologies of Drama, Oct 10, 2015 – Jan 3, 2016
This is the first United States career survey of the pioneering artist Eija-Liisa Ahtila (Finnish, born 1959). Ahtila's provocative, intensely mesmerizing moving-image installations picture what it means to be human, to experience transcendence as well as frailty, to be awed by nature, and to reason with loss. This selected survey of the past twenty years of Ahtila's multichannel installations includes works from every period of her career, and it features the North American premiere of her newest work, the four-channel installation Studies on the Ecology of Drama 1, 2014.
The installations included in Eija-Liisa Ahtila: Ecologies of Drama trace a central question posed throughout her work: how have drama and narrative historically been constructed, and how might we envision their new forms? The root of the word "ecology" lies in the Greek "oikos," or "house," which directly suggests the interdependence between our personal, domestic concerns and larger ecosystems. For example, many of Ahtila's most recent works, including Studies on the Ecology of Drama 1, directly investigate how humans could move away from an anthropocentric perspective and suggest that our narratives about the world around us may be powerful tools in that effort.
This special exhibition is accompanied by the first reader to be published on Eija-Liisa Ahtila. This publication is the first to assemble the English-language scripts from all of her multichannel installations, as well as key works of scholarship and numerous interviews with the artist. The book is an invaluable resource for future inquiry into the writing and context of Ahtila's groundbreaking work.
This exhibition is organized by Senior Curator Cathleen Chaffee.
Exhibition Sponsors
This exhibition has been made possible through the generous support of Curbell, Inc., and the Finnish Cultural Foundation with additional support from The American Scandinavian Foundation and the Marian Goodman Gallery, New York, Paris, and London.
Technical support provided by Advantage TI.
Eija-Liisa Ahtilan teoksista antologia yhdysvalloissa
LEHDISTÖTIEDOTE 10.12.2015
EIJA-LIISA AHTILAN TEOKSISTA JULKAISTU YHDYSVALLOISSA ECOLOGIES OF DRAMA -TEKSTIANTOLOGIA
Amerikkalainen Albright-Knox Art Gallery on julkaissut 300-sivuisen Eija-Liisa Ahtila: ECOLOGIES OF DRAMA – Collected Writings, Interviews, and Scripts -nimisen tekstiantologian Eija-Liisa Ahtilan liikkuvan kuvan teoksista. Kirja sisältää nimensä mukaisesti laajan valikoiman useiden eri kirjoittajien esseitä ja keskusteluja sekä Ahtilan kaikkien liikkuvan kuvan teosten synopsikset ja käsikirjoitukset.
Antologia toimii erinomaisena Ahtilan teosten lähdeteoksena, sekä kuvaa kuinka hän on uraauurtavasti, jo 1990-luvun alusta ollut keskeisenä taiteilijana luomassa kansainvälisen nykytaiteen uutta 'genreä', monikanavaisia liikkuvan kuvan installaatioita.
Antologia on julkaistu Albright-Knox museossa, Buffalossa olevan Eija-Liisa Ahtilan retrospektiivin yhteydessä. Kirjan kanssa nimensä jakavassa Ecologies of Drama -näyttelyssä on esillä kahdeksan Ahtilan liikkuvan kuvan installaatiota vuosilta 1993-2015. Se on hänen kahdeskymmenes ja samalla tähän mennessä laajin yksityisnäyttelynsä
Yhdysvalloissa.
Näyttelyn kuraattorina ja antologian toimittajana on toiminut Cathleen Chaffee. Näyttely on esillä 3.1.2016 saakka.
Kirja on tilattavissa Suomeen suoraan museon omasta nettikaupasta
(http://www.albrightknox.org/shop-ak/publications#ahtila) tai esimerkiksi Amazon.com:ista
(http://www.amazon.com/Eija-Liisa-Ahtila-Ecologies-Collected-Interviews/dp/1887457194)
Eija-Liisa Ahtila: Ecologies of Drama: Collected Writings, Interviews, and Scripts (2015)
by Eija-Liisa Ahtila (Author), Cathleen Chaffee (Editor)
Hardcover: 300 pages
Publisher: Albright-Knox (2015)
Language: English
ISBN-10: 1887457194
ISBN-13: 978-1887457194
Product Dimensions: 9.5 x 7 x 0.8 inches
ALBRIGHT-KNOX ART GALLERY
Press Contact / Director of Communications
Maria Scully-Morreale
+1 – 716 – 270 - 8229
mmorreale@albrightknox.org
http://www.albrightknox.org
KRISTALLISILMÄ
Exhibitions Manager
Sara Supply
sara@crystaleye.fi
09 – 694 2308
***
Eija-Liisa Ahtilalla (s. 1959 Hämeenlinna) on urallaan takana lukuisia merkittäviä yksityisnäyttelyitä, joista voidaan mainita esimerkiksi vuoden 2002 retrospektiiviset näyttelyt Tate Modernissa Lontoossa ja Kiasmassa Helsingissä. Vuonna 2006 hän oli ensimmäinen suomalainen kuvataiteilija, joka on esittäytynyt New Yorkin modernin taiteen museossa. Vuonna 2008 hänellä oli retrospektiivi Jeu de Paume-museossa Pariisissa sekä Düsseldorfin K21 -museossa. Vuosina 2011-2012 Parallel Worlds kiertonäyttely starttasi Tukholman Moderna Museetista ja kulki Nïmesin Carre d'Art –museon kautta Kiasmaan. Lisäksi hän on osallistunut Venetsian biennaaliin (1999, 2005), Kasselin Documentaan (2002, 2005) ja São Paulon biennaaliin (2008). Ahtila on saanut myös merkittäviä kansainvälisiä taidepalkintoja, kuten visuaalisen taiteen palkinnon Artes Mundin Walesissa (2006) sekä Vincent van Goghin eurooppalaisen nykytaiteen palkinnon Alankomaissa (2000). Hänelle on myönnetty Prince Eugen -mitali Ruotsissa (2009) ja kotimaassa muun muassa taiteen akateemikon arvonimi (2009).
---