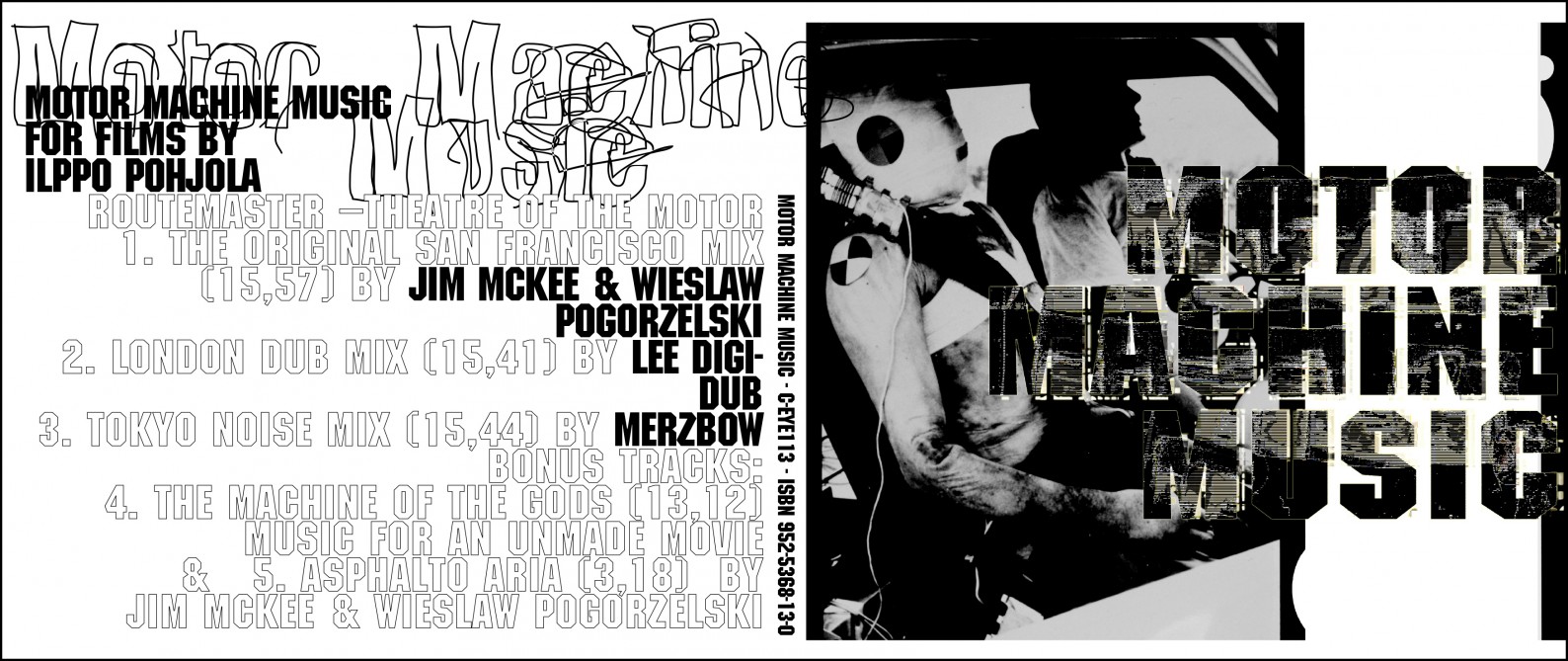 ---
MOTOR MACHINE MUSIC
Limited Edition CD-R +Inlay with custom fontography
Concept, design & fontography
ILPPO POHJOLA
Mastering PAULI SAASTAMOINEN / Finnvox Studios
Financial support ART COUNCIL OF FINLAND, AVEK
---
ROUTEMASTER – Theatre of the Motor is a rhythmic mosaic about speed and human cadavers that have been used in crash tests. It is a montage of rhythmically organised repetitions and involves an abstraction of motion that merges the subject with the film material. Routemaster is a film that resembles a live concert and creates a real physical experience.
Routemaster is available with three different soundtrack mixes:
1. The Original San Francisco Mix by
JIM MCKEE & WIESLAW POGORZELSKI
2. London Dub Mix by LEE DIGI-DUB
3. Tokyo Noise Mix by MERZBOW
MACHINE OF THE GODS is hazily mystical, and it combines classic film narrative and extreme cinematic methods. It intends to find a filmic form for a sublime experience that transcends by many orders of magnitude any logical comprehension – that of out-of-the-body travel.
4. Machine of the Gods by
JIM MCKEE & WIESLAW POGORZELSKI
ASPHALTO – An Aria for 13 Demolition Derby Cars, Girls & Gar Stations is an urban aria about cars, girls and gas stations. It aims to achieve a unified formal language, created gradually by an expanding wall of sound, collage-like super-impositions, the fictional demolition derby sequences and the experimental documentation of thirteen Finnish service stations twice, with a thirteen-year interval.
Asphalto is a conceptual narrative, which aims to deconstruct classical film narrative techniques while describing, by means of demolition and destruction, the difficulty of communication, encounter, and relationship.
5. Asphalto Aria by
JIM MCKEE & WIESLAW POGORZELSKI
---