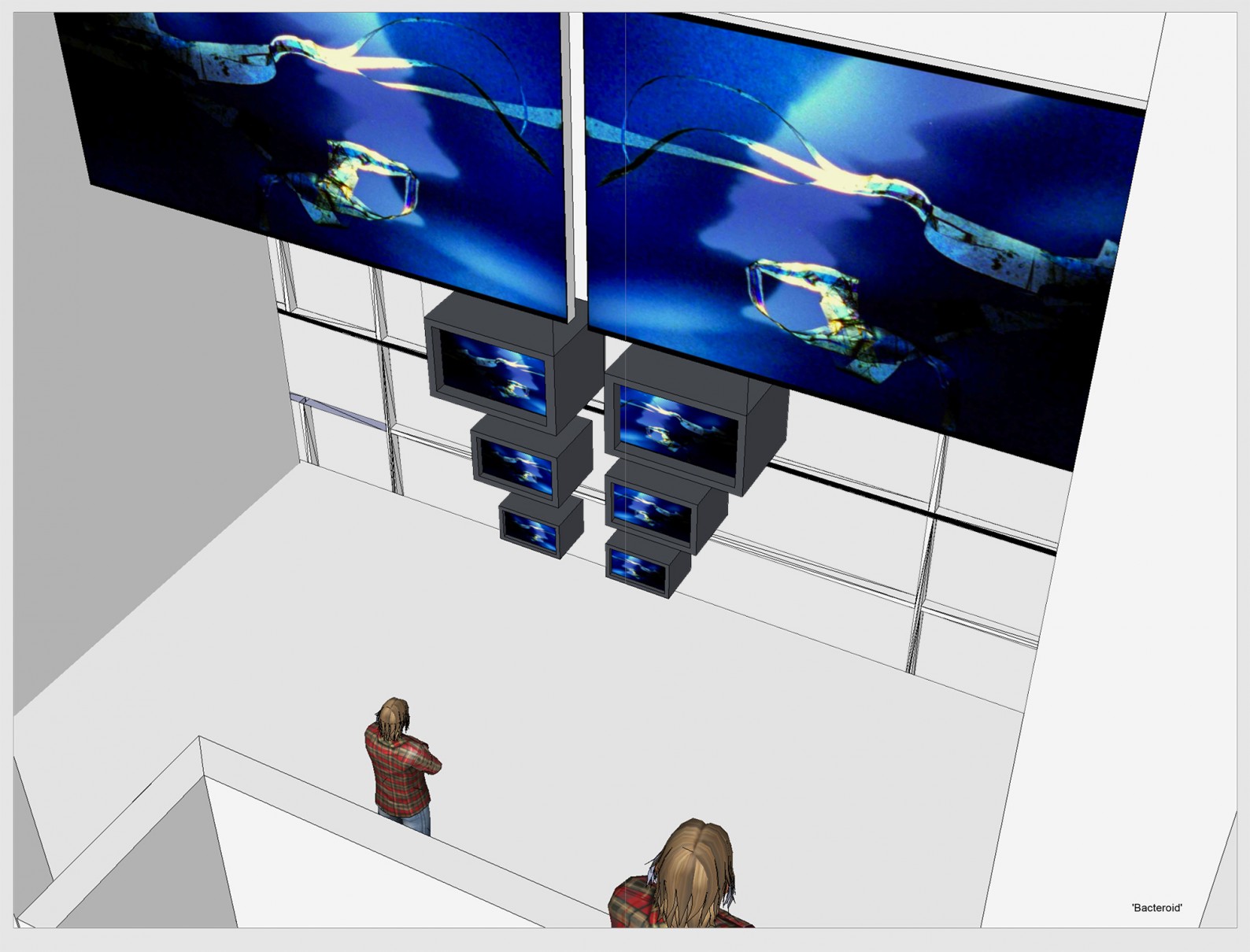 ---
bacteroid
2003/13
9-channel installation with 2 screens and 7 monitors suspended from the ceiling with visible rigging wires, video and audio cables
15 min loop
16 mm/HD
Audio 7.1
---
BACTEROID is an experimental animation-installation about the effects of pollution on the physical morphing of the body and on sex determination in micro-organisms. Several substances used in agriculture, the chemicals industry and, for instance, in primer paints in boats, affect the genotypes of micro-organisms and microbes so that they become hermaphrodite or so that their sex changes into its direct opposite.
The subject is treated symbolically. The micro-organisms, without being more precisely defined, are represented by translucent, animated plastic adhesive tape, which is manipulated into unrecognisability using a Rostrum camera and a solarisation technique with back-projection. In the installation these imaginary organisms represent all the micro-organisms in creation that have had to change their gender-identity as a consequence of human actions.
The film footage is treated using the same kinds of substances, chemicals and pollutants that the micro-organisms have to filter into their systems. Some of the film has already been kept in cans filled with these kinds of substances for several years. As a consequence, some of the film's colours have changed totally, some have eroded, some have corroded to the point of amorphousness, some of the film cans are completely rusty, some have almost been eaten through… Thus, the image material has to undergo the effect of the same substances as the micro-organisms that it symbolises, i.e. not only the form and content of the work, but also the material itself, are one. The contaminated film material is reshot onto 35-mm film using a Rostrum camera.
The installation consists of two screens and of seven monitors hanging from the ceiling. With their visible rigging wires, video and sound cables, they clearly form a whole that reminds us of micro-organisms. The rhythms of the symbol images and animated material, their increasing division and separation in various ways onto different screens and monitors, are combined with the electronic music into a minimalistic accompaniment. This creates a trance-like mood, which communicates the moral questions associated with the theme they are dealing with powerfully and on an emotional level. This is also the case because the installation has the exceptional colours of hand-made film and animal shape of the installation itself.
---
Animated, written & directed by
ILPPO POHJOLA
Rostrum cinematography
SEPPO RINTASALO + ANTTI RUUSUVUORI
Film editing HEIKKI KOTSALO
Sound design JIM MCKEE
Add.sound design PEKKA LAPPI
Negative scanning + color grading
PASI MÄKELÄ
Re-recording mixer PETER NORDSTRÖM
Music by ELLIOTT SHARP
Add.music WIESLAW PORGEZELKSI & LAURIE AMAT
Production support ARTS COUNCIL OF FINLAND, AVEK, CITY OF HELSINKI, FINNISH CULTURAL FUND, FINNISH FILM FOUNDATION, HELANDER FOUNDATION, KORDELIN FOUNDATION
In co-operation with YLE/TV1
Producer ILPPO POHJOLA / CRYSTAL EYE