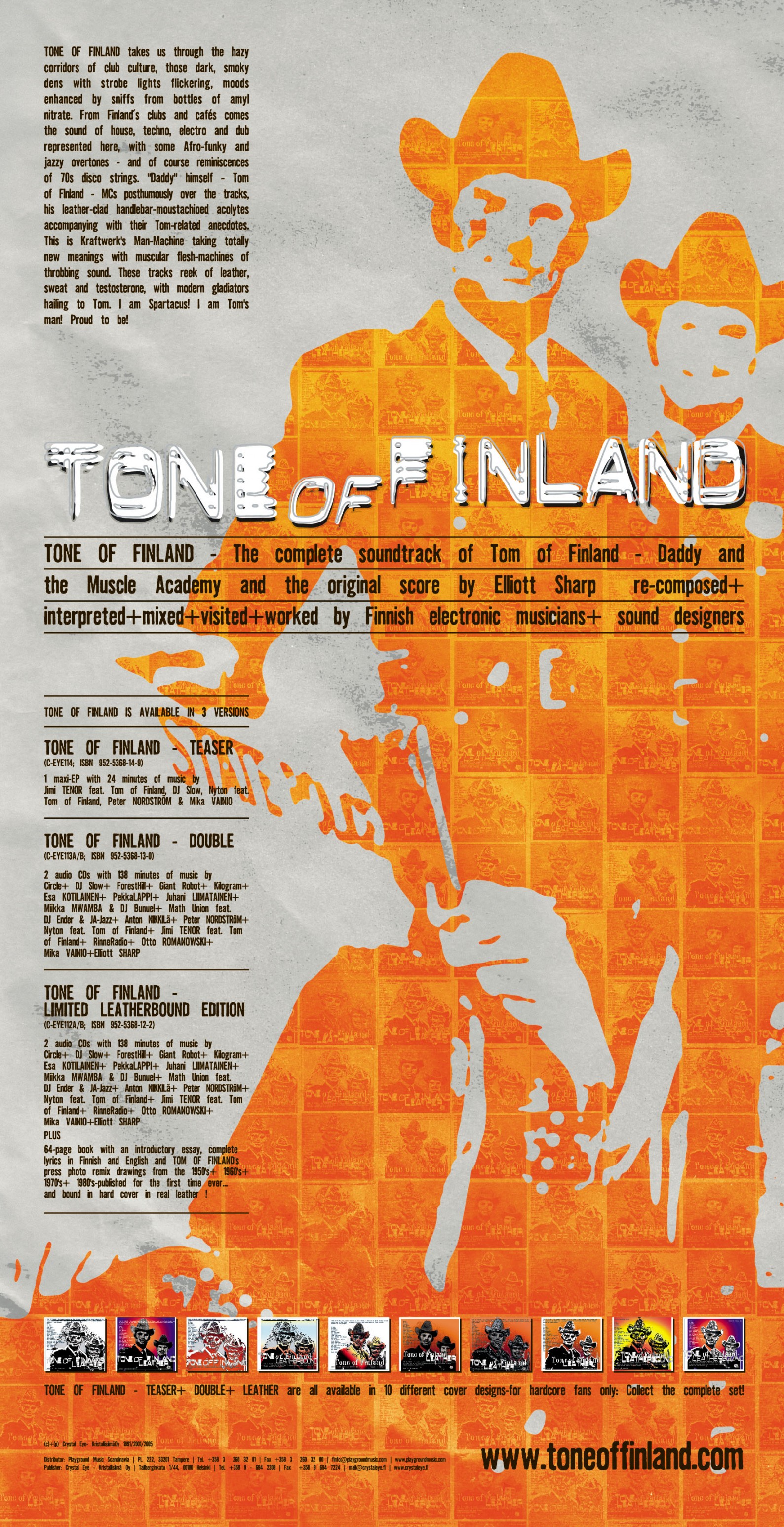 ---
Tone of finland
The complete soundtrack of Tom of Finland – Daddy and the Muscle Academy and the original score by Elliot Sharp re-composed + interpreted + mixed + visited + worked by Finnish electronic musicians + sound designers
---
TONE OF FINLAND – DOUBLE
Double-CD with 138 minutes of music by Circle+ DJ Slow+ ForestHill+ Giant Robot+ Kilogram+ Esa Kotilainen+ Pekka Lappi+ Juhani Liimatainen+ Miikka Mwamba & DJ Bunuel+ Math Union feat. DJ Ender & JA-Jazz+ Anton Nikkilä+ Peter Nordström+ Nyton feat. Tom of Finland+ Jimi Tenor feat. Tom of Finland+ RinneRadio+ Otto Romanowski+ Mika Vainio+ Elliot Sharp
Available in 10 different dust cover designs – for hardcore fans only: Collect the complete set!


Better sound quality


Pennies for the artists

---
Also available as
TONE OF FINLAND – TEASER
1 maxi-EP with 24 minutes of music by Jimi Tenor feat. Tom of Finland, DJ Slow, Nyton feat. Tom of Finland, Peter Nordström & Mika Vainio
TONE OF FINLAND – LIMITED LEATHERBOUND EDITION
2 audio CDs with 138 minutes of music
PLUS
64-page book with an introductory essay, complete lyrics in Finnish and English and Tom of Finland's press photo remix drawings from the 1950's+ 1960's+ 1970's+ 1980's – published for the first time ever... and bound in hard cover in real leather!
---
TONE OF FINLAND
All music © & courtesy of the artists & Crystal Eye – Kristallisilmä Oy
Concept, design & executive producer ILPPO POHJOLA
Production manager KATI NUORA
Text & still image editor
SARA SAVOLAINEN
Production assistant SANNA KUITTINEN
English translations MIKE GARNER &
VESA KUITTINEN
Publicity MILLA KONTKANEN
Mastering PAULI SAASTAMOINEN / FINNVOX STUDIOS
Production support ART COUNCIL OF FINLAND, AVEK, ESEK, FINNISH CULTURAL FUND