---
asphalto / routemaster
DVD:
Approx 135 min; 4:3 + 16:9 / 1:2,35; b/w + color; Dolby Digital 5.1; DVD-5; PAL; No regional coding
DVD EXTRA FEATURES:
Interactive full-motion menus; Asphalto & Routemaster in 16:9; 3 soundtrack mixes for Routemaster; English + Finnish subtitles; Poetry Karaoke; 8 video clips including: design sketches, full storyboards, location stills; 2 work-in-progress films: Derby Chill Out, Bacteroid
BOOK:
52 + 52 pages + special cardboard fold-out; approx 100 b/w & color images/montages; custom box; 160 x 190 mm
---
ASPHALTO / ROUTEMASTER – De Luxe DVD +Book is an attempt to create a 'Gesamtkunstwerk' — a total work of art — which discusses issues related to automobile culture, speed, male and female identity through graphic design, photography, street poetry and experimental filmmaking.
It is not only an attempt to achieve a synthesis between different contextual issues and means of expression, but also an attempt to find technical solutions that would revitalise the formative tradition in experimental design and film.
The films on this DVD are assaultive and physical, yet at the same time surprisingly sensual.

---
ASPHALTO/ROUTEMASTER –
DE LUXE DVD
Written & directed by ILPPO POHJOLA
Editing & authoring HEIKKI SALO
Sound design JIM McKEE
Menu music by MERZBOW + WIESLAW POGORZELSKI
Add. audio RADIOATELJE / Pekka Lappi + SES / Peter Nordström
Authoring facilities METRONOME
Production support AVEK, FRAME, FINNISH FILM FOUNDATION
BOOK
All montages & design by ILPPO POHJOLA
Original gas station girl location stills
HELI REKULA
Monologue by HARRY GAMBOA JR
Translation LEEVI LEHTO + MARKKU INTO
Graphic assistants EVELIINA KOIVULA + KATI NUORA + SARA SAVOLAINEN
Aerial images MLL/Ilmakuvakeskus
Repro SCAN-VITAL
Printing ART-PRINT
---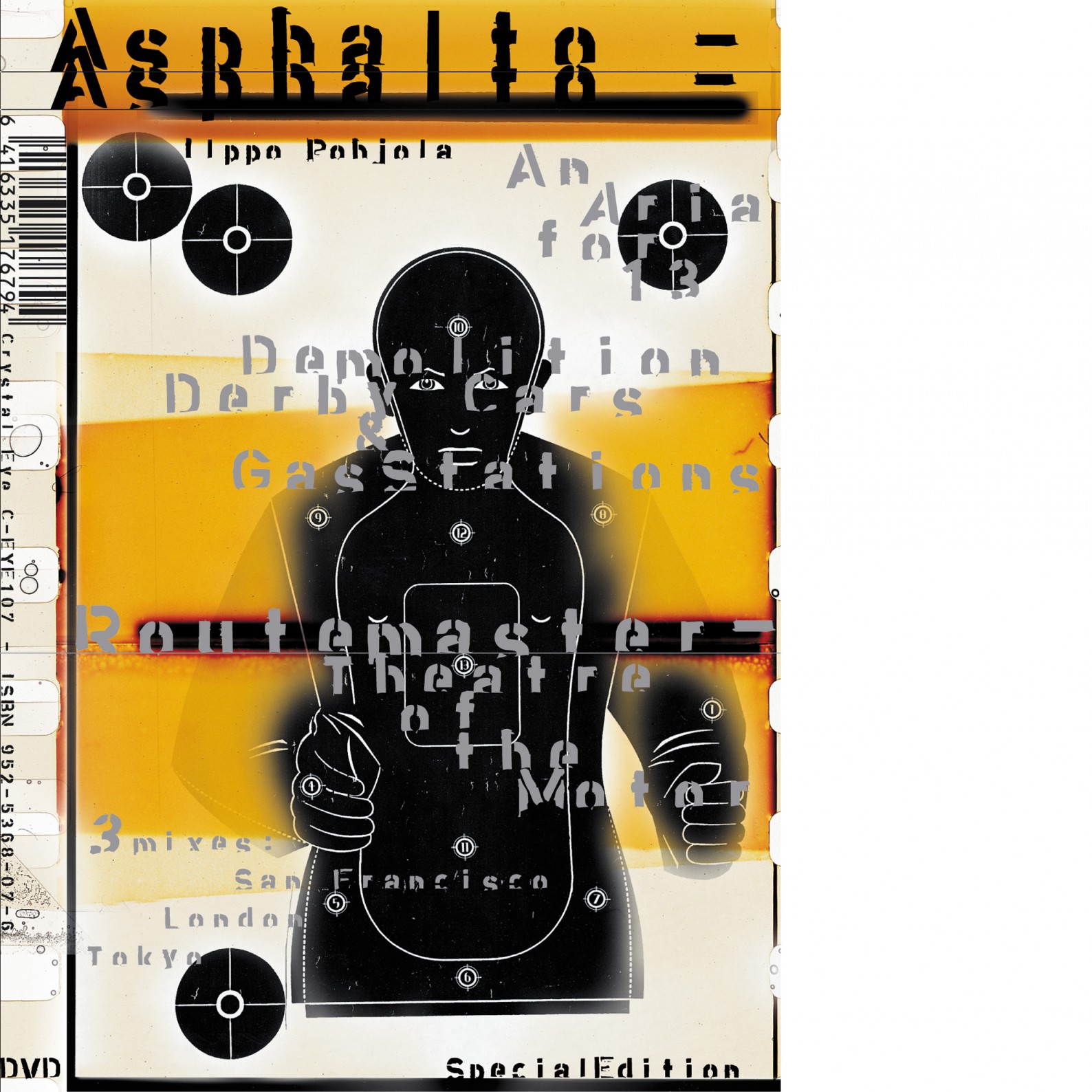 Also available as
ASPHALTO / ROUTEMASTER
– Special Edition DVD
(C-EYE107 ISBN 952-5368-07-6)
Poetry by Harry Gamboa Jr
DVD: Approx 135 min; 4:3 + 16:9 / 1:2,35; b/w+color; Dolby Digital 5.1; DVD-5; PAL; No regional coding
DVD EXTRA FEATURES: Interactive full-motion menus; Asphalto & Routemaster in 16:9; 3 soundtrack mixes for Routemaster; English + Finnish subtitles; Poetry Karaoke; 8 video clips including: design sketches, full storyboards, location stills; 2 work-in-progress films: Derby Chill Out, Bacteroid
BOOK: Not included
Essays