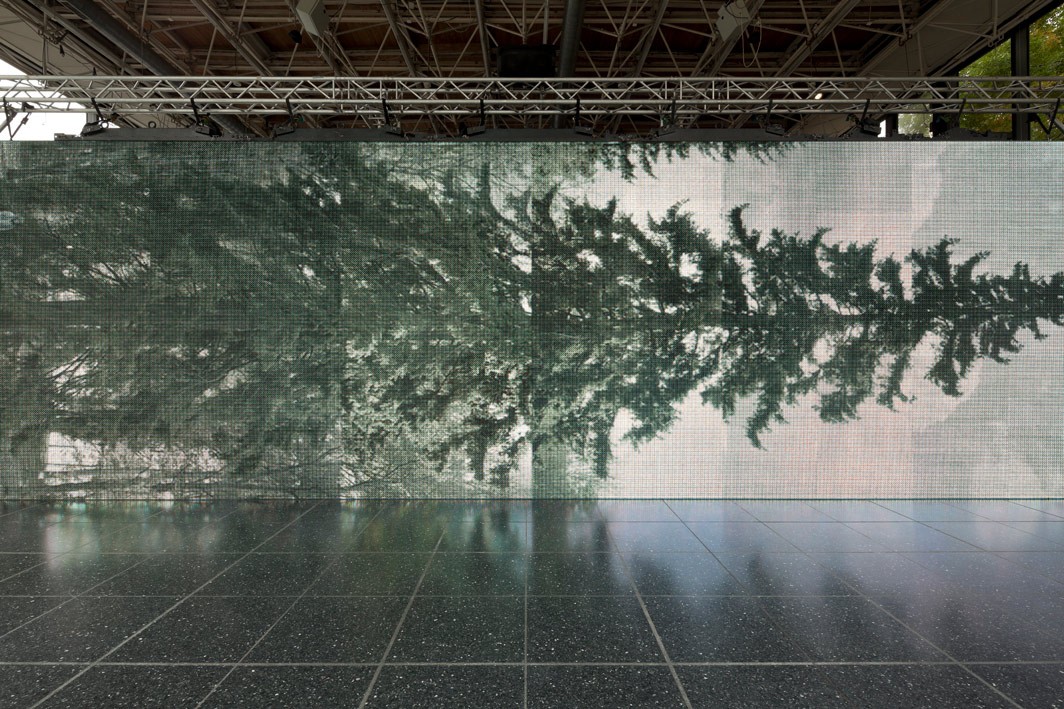 ---
Horizontal
2014 | Led monitor sculpture
---
HORIZONTAL is a six-channel moving image work of a living spruce tree. The idea of the work is to show the tree in its entirety, as far as possible retaining its natural size and shape. Because a life-size tree does not fit in a standard-sized human space, the tree is presented horizontally in the form of successive projected images. The work is a portrait of the tree. It is a record of its existence as a living organism, or perhaps more to the point, a presentation of the difficulty of perceiving and recording a spruce tree with the methods of visual documentation invented by humans.
Any attempt to show a fully-grown spruce or some other tall tree using the moving image is bound to run into difficulties. The horizontal film frame cannot show the entire tree in one picture. If one uses a wide-angle lens, the tree appears distorted, and is still too large to fit in one picture. Stepping back to allow the entire tree to appear inside the frame makes the picture no longer a portrait of a tree, but a landscape in which the tree is but one element. When the subject of a work is a spruce tree, the situation inevitably differs from ordinary filming. This happens both in terms of the mechanics and the purpose of filming as well as in the role of the subject and its relationship to its depicted environment. The attempt to film a spruce tree brings the portrayer face to face with the technical apparatus constructed as an extension of the human eye and perception. It also invites us to consider the preconditions of anthropocentric dramaturgy and the valuations it engenders in images and in the order of representation.
Horizontal was shown as a large LED sculpture for the first time at the Lehmbruck Museum. It's not only the horizontal position of the spruce that made new points of reference possible, but also the central position of the wall in the glass hall of the Lehmbruck Museum, which offered multiple views of the work. Viewers who looked at its backside were thrown back on the sheer number of screen units needed. Circling the work, they could discern the multitude of small, image-generating LED lights on the front. From up close the image of the spruce looked like an abstract ballet of light. Only by shifting position once more and moving outside into the park surrounding the Museum did they get a complete, high-resolution, focused image.
The presentation on LED screens gave the work an independent presence detached from the image. The central position of the LED wall in the room encouraged viewers to walk around the work as one walks around plastic artworks, which made them aware of the multiple perspectives it offered. This created a sense of the materiality of the technology, which called for the contemplation of Horizontal as a sculpture.