Synopsis
THE PRESENT consists of five independent short films exhibited as a five-channel monitor installation in museums and galleries, and five spots to be shown among advertisements on television.
The subject matter of "the Present" is the stories and personal worlds of women who have experienced psychosis. The material is based on interviews, but the episodes are fictional. Each of the five episodes depicts a particular event in the women's life:
"UNDERWORLD": a woman is hiding under a hospital bed from killers coming from a corridor.
"GROUND CONTROL": a teenage girl lies down in a muddy puddle in front of her home.
"THE BRIDGE": a woman crawls over a bridge.
"THE WIND": anger takes the form of a wind in a woman's apartment.
"THE HOUSE": a woman starts to hear voices, darkens the rooms and shuts out all images.
The theme of the work, forgiveness, is advertised throughout the work. At the end of each story there is a text: "Give yourself a present, forgive yourself".
STRUCTURE AND FORM
In the installation, the material runs as a synchronized loop and two of the five stories are seen simultaneously. The lengths of the stories range from 1 min 12 sec to 2 minutes, which causes the pieces to start at varying intervals.
The five 30-second TV spots are advert-like. The aim is to show them on TV in advertising slots at the same time as the installation is exhibited in a museum or gallery. In this way, the work involves two different contexts and audiences.
Alongside the project, blankets bearing the slogan "Give yourself a present, forgive yourself" are sold at cost price in the galleries and museums.
---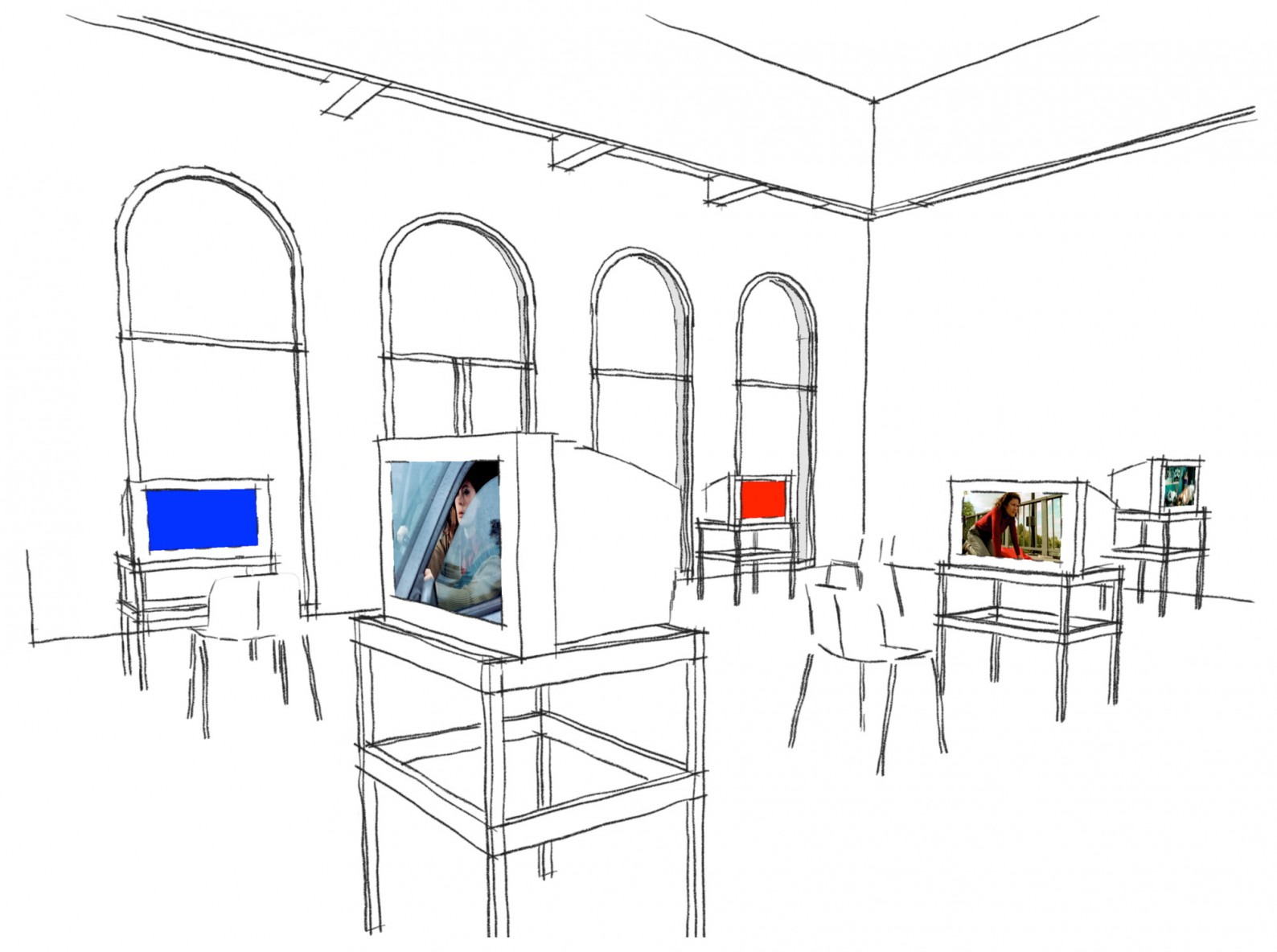 THE PRESENT
2001 | 5 x 1 min 12 sec to 2 min | Five TV spots: 5 x 30 sec | 5-channel monitor installation with furniture | 16:9 | Audio 2.0 | Original language Finnish, English subtitles
Written & Directed by EIJA-LIISA AHTILA
Actors AMIRA KHALIFA, ULLARIIKKA KOSKELA, MARJAANA KUUSNIEMI, MARJAANA MAIJALA, MINTTU MUSTAKALLIO
Cinematography ARTO KAIVANTO
Editing TUULI KUITTINEN
Sound Design PETER NORDSTRÖM
Set Design TIINA PAAVILAINEN
Production support AVEK, FINNISH FILM FOUNDATION
Production ILPPO POHJOLA/CRYSTAL EYE
---