current screenings
DADDY AND THE MUSCLE ACADEMY by ILPPO POHJOLA
The 2017 Remaster – Digitally restored and remastered version
Zeitgeist Films & Kino Lorber, New York and other cities, USA
– Theatrical re-release 2017/2018, venues & dates TBC
Roze Filmdagen, Amsterdam LGBTQ Film Festival, Netherlands, March 8 - 18, 2018
FestHeart, Rakvere LGBT Film Festival, Estonia, Oct 6 - 8, 2017
Kino Engel & Kesäkino Engel, Helsinki, Finland
– Theatrical re-release, starting in August, 2017
ICA,London, UK, August 12 -15, 2017
Pride in London @ Prince Charles Cinema, UK, July 6, 2017
– Screening, discussion & after party
More info
WHERE IS WHERE? by EIJA-LIISA AHTILA
Algeria – Extract of Perfumes, Cinemateket, Oslo, Norway, Sep 7 - 17, 2017
P(L)AIN TRUTH by ILPPO POHJOLA
AVEK 30, Orion - Finnish Film Archive, Helsinki, Finland, Sep 8 - 10, 2017
TODAY and NATURE OF THINGS by EIJA-LIISA AHTILA
AVEK 30, Orion - Finnish Film Archive, Helsinki, Finland, Sep 8 - 10, 2017
STUDIES ON THE ECOLOGY OF DRAMA by EIJA-LIISA AHTILA
Kettupäivät, Helsinki, Finland, Nov 15 -19, 2017
Vancouver International Film Festival, Canada, Sep 28 - Oct 13, 2017
Helsinki International Film Festival, Finland, September 14 - 24, 2017
Savonlinna International Nature Film Festival, Finland, August 18 - 20, 2017
Curtas Vila do Conde, Vila do Conde, Portugal, July 8 - 16, 2017
Sheffield Doc/Fest, Sheffield, UK, June 9 - 14, 2017
Festival of Audio-Visual Arts, Athens & Corfu, Greece, May 5 - June 11, 2017
LOOP, Barcelona, Spain, May 18 - 27, 2017
Berlin Int:l Film Festival / Forum Expanded, Berlin, Germany, Feb 9 - 18, 2017
CURRENT EXHIBITIONS
CURRENT EXHIBITIONS BY EIJA-LIISA AHTILA
POTENTIALITY FOR LOVE & CO – Serlachius Museums, Mänttä, Finland,
3.2.2018 - 6.1.2019
SERVERAL WORKS – Museum M, Leuven, Belgium, 18.5.2018 - Sep 2018
POTENTIALITY FOR LOVE & CO – 21st Sydney Biennale, Australia, 16.3. - 11.6.2018
STUDIES ON THE ECOLOGY OF DRAMA – ACMI, Australian Centre for the Moving Image, Melbourne, Australia, 5.12.2017 - 25.2.2018
THE HOUSE – Rachovsky Collection, The Warehouse, Dallas, USA, 10.7.–31.12.2017
SEVERAL WORKS – Salon Dahlmann, Berlin, Germany, 11.9.–23.12.2017
FISHERMEN / ÉTUDES No 1 – You & I, A4 Arts Foundation, Cape Town, South Africa, 13.9.–30.11.2017
THE ANNUNCIATION – Luther and the Avant-Garde, Former Prison of Wittenberg, Wittenberg, Germany, 18.5.–17.9.2017
FISHERMEN / ÉTUDES No 1 – Cubo Arte, Fundacion Mar Adentro, Coastline La Serena, Chile, 4.–8.9.2017
SEVERAL WORKS – Ecologías del drama, MAC - Museo de Arte Contemporáneo, Coruña, Spain, 27.4.–3.9.2017
CASTING PORTRAITS – LOOK AT US!, GNYP Gallery, Berlin, USA, 29.6.–12.8.2017
THE ANNUNCIATION – Vulgata, Kultum, Graz, Austria, 1.3.–8.7.2017
SCENOGRAPHER'S MIND – Dreamaholic, Weserburg Museum Für Moderne Kunst, Bremen, Germany, 1.3.–8.7.2017
STUDIES ON THE ECOLOGY OF DRAMA, Marian Goodman Gallery, New York, USA, 1.3.–22.4.2017
IF 6 WAS 9 & CASTING PORTRAITS – Collection Westreich, Centre Pompidou, Paris, France, 10.6.2016–27.3.2017
current publications
DADDY AND THE MUSCLE ACADEMY ON BLURAY IN USA & CANADA
Zeitgeist Films and Kino Lorber is releasing digitally restored and remastered version of Daddy and the Muscle Academy by Ilppo Pohjola on BluRay in the US and Canada later this year.
"Tom of Finland is one of the major icons of the gay world. Taking inspiration from his World War II army days, 1950s American bodybuilding magazines and biker movies, Tom's erotic drawings of uniformed and leather-clad beefcake have become a permanent fixture of 20th-century iconography.
Completed shortly before his death in 1991, Daddy and the Muscle Academy: The Life, Art and Times of Tom of Finland is the definitive, ground-breaking documentary of the man and the artist. Newly restored from the original camera negative, it combines interviews with Tom himself, commentary from his "leather men", hundreds of original drawings, and fantasy scenes inspired by his work."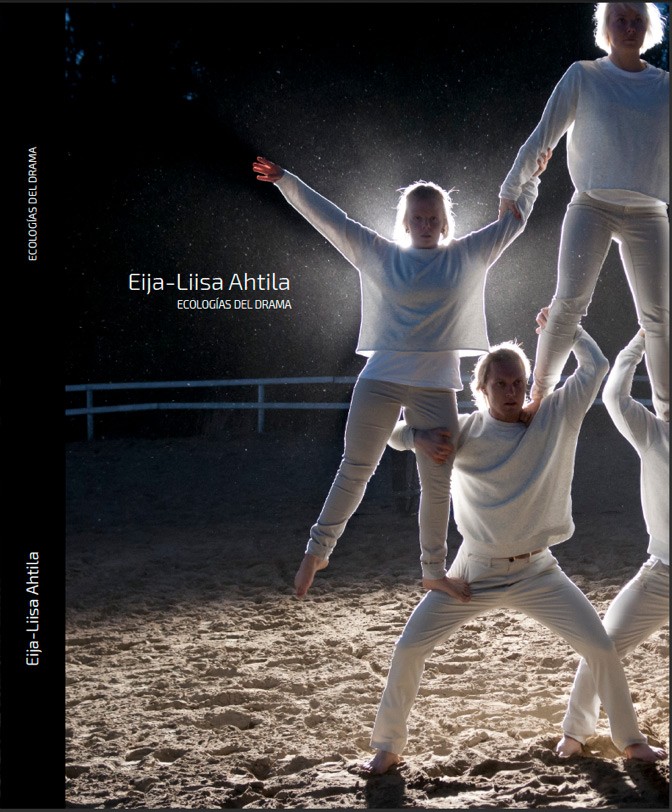 RETROSPECTIVE CATALOGUE OF AHTILA'S WORKS IN SPANISH
On the occasion of Eija-Liisa Ahtila's major retrospective in Spain, MAC Museo de Arte Contemporáneo of A Coruña is publishing together with DARDO, the first Spanish language catalogue by Eija-Liisa Ahtila, presenting a cross section of her work.
The catalogue spans over 200 pages of museum views of installed works, photographic works, film stills and screen captures. The catalogue features a previously unpublished text by art historian Hanna Johansson The Temporal and Ecological Sphere of Eija-Liisa Ahtila's Film and The Moving Image as Witness by author Mieke Bal. Studies on the Ecology of Drama, Horizontal, Anthropomorphic Exercises on Film, The Annunciation, The House, Today and Dog Bites have been photographed at MAC and these never seen photographs are included, together with views from other shows by the artist.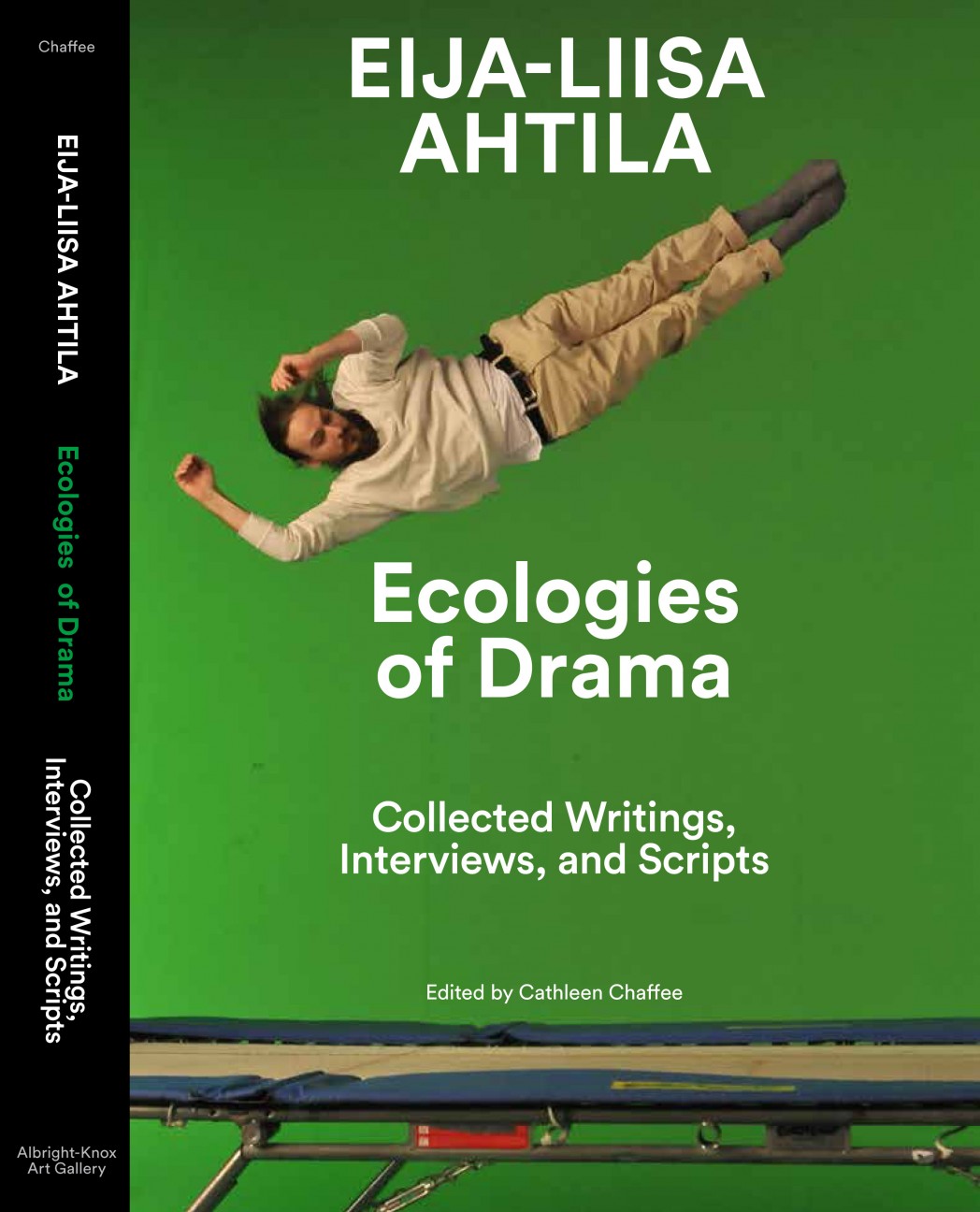 ECOLOGIES OF DRAMA – TEXT ANTHOLOGY PUBLISHED IN USA
Albright-Knox Art Gallery has published a 300-page anthology featuring texts on Eija-Liisa Ahtila's moving image works. The anthology, titled "Eija-Liisa Ahtila: ECOLOGIES OF DRAMA – Collected Writings, Interviews, and Scripts", features a great variety of essays and conversational articles by various authors, as well as the synopses and scripts of all Ahtila's moving image works.
The anthology is an excellent source book of Ahtila's works, and describes how she has been a groundbreaking artist since the beginning of the 1990s, pioneering in creating a new genre in contemporary art, the multi-channel moving image installation.
current affairs from the archives
A LIE NEEDS ONLY TO BE REPEATED
TEN TIMES TO BECOME TRUE
(English translation)
VALHE TARVITSEE...
by EIJA-LIISA AHTILA
1987 | Text installation on bulletin boards and stickers
STUDIES ON THE ECOLOGY OF DRAMA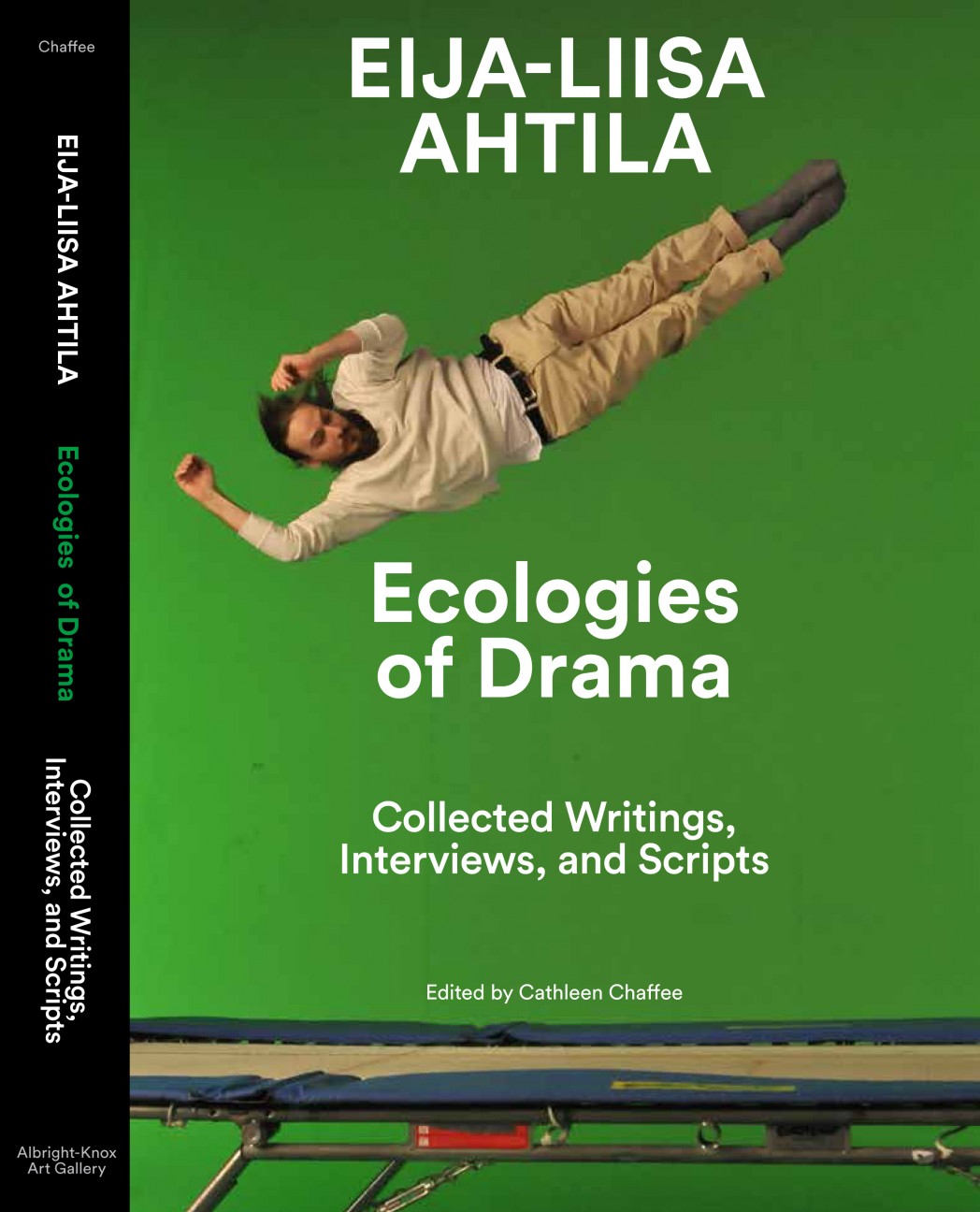 "How to depict living things? How to approach them? How to convey a different way of being, another being's world? How to make it into a continuous event that becomes part of our idea of reality?"
STUDIES ON THE ECOLOGY OF DRAMA is a 4-channel projected moving image installation and single-channel film that uses the methods of presentation as a path to the company of other living beings. It expands upon the issues of ecological moving image narrative explored in her previous works – the focus in this work being on presentation, imaging and imagination in the context of the moving image.
4k digital remastering project
4K/2K DIGITAL RESTORATION PROJECT
Crystal Eye is remastering all existing works, installations and films by Eija-Liisa Ahtila and Ilppo Pohjola. Detailed digital restoration is executed from the original camera and laboratory negatives and the original audio sources to reach maximum image and audio quality – without losing artist's original intention and the film look. The project will be finished by the end of this year.
Please see Daddy and the Muscle Academy trailers below.
---
ABOUT
CRYSTAL EYE – 26 years of innovative genre-defining art / installation / film production.
Ilppo Pohjola
Film, installation and other projects for Ilppo Pohjola.
tom of finland
Daddy and the Muscle Academy
– The Original Tom of Finland Movie
26 years!
NEWS
News about/related to our works.
MAP
Exhibitions, screening and related events of works produced by Crystal Eye around the world.
INFO
CRYSTAL EYE
Kristallisilmä Oy
Lämmittäjänkatu 4A
00880 Helsinki, Finland
Tel. +358 9 694 2308
info@crystaleye.fi